From the President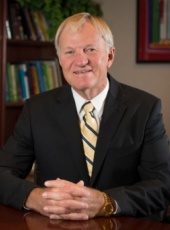 You support dreams, inspire confidence, and expand horizons. You, our Michigan Technological University alumni and friends, make an impact with your gifts.
You invest in students. You encourage the leaders who help our students harness their talents to improve the world. Empowering and motivating Michigan Tech students also will be your legacy.
Whether you make an annual gift to scholarships or create a lifetime gift, you truly pave the way for our students and their futures. Your generosity nurtures and rewards intellect, creativity, and hard work. You can be proud to support Michigan Tech students.
In this report, we share your stories and the stories of those whose lives have been changed because of your gifts.
Your dollars are at work here every day. The University's endowment provides resources for students today while ensuring we can deliver opportunities and experiences for future generations.
We thank you for supporting Michigan Tech's mission to create a just, prosperous, and sustainable world. Take pride in what we have been able to accomplish because of your generosity.
Glenn Mroz '74 '77
President, Michigan Technological University and Michigan Tech Fund