Sam Tidwell Outstanding Man and Woman in Business
Every year, the School of Business and Economics scholarship selection committee has the difficult task of choosing one male and one female student to be the Sam Tidwell Outstanding Man and Woman in Business. For 2014, the committee has selected Judy Isaacson as the Outstanding Woman in Business and Cole Smith as the Outstanding Man in Business.
The Sam Tidwell Outstanding Man and Woman in Business awards are given annually to two current students who embody the mission of the School of Business and Economics. The selection committee, comprised of professors Anne Warrington, Mari Buche, Paul Nelson, and Michele Loughead, along with Academic Advisor Carly Harrington and student Nathan Sturos (2013 Outstanding Man in Business), received a number of high-quality applications.
"While both [Cole and Judy] have excellent academic records, distinction lies in their willingness to assume leadership roles on campus, as well as engage in the experiential opportunities provided by the School's many programs," said SBE Dean Eugene Klippel.

Judy Isaacson stays busy on campus through her roles in the Applied Portfolio Management Program and Volunteer Income Tax Assistance program. After studying abroad in spring 2013 and working as a teaching assistant over the summer, Judy currently interns at Superior National Bank and Trust in Hancock. These collective experiences will give her an edge toward her future career goals, which includes becoming an internal auditor focusing on fraud. "The School of Business and Economics has shaped me into a professional businesswoman, prepared me for leadership roles, and has given me confidence in my abilities," Judy says.
Cole Smith, the 2014 Outstanding Man in Business, plans to graduate in December 2014 with his Bachelor of Science degree in Management, and has been on the Dean's List for the majority of his academic career. He has a strong involvement with the Kappa Sigma Iota Accounting Club, where he is vice president of operations. Building his résumé is very important to Cole; he has worked for DTE Energy, Hanley Excavating, Bob's Custom Carpentry, Specialty Granules, Inc., and KC Docks. Cole, originally from Iron Mountain, is appreciative that he was able to be so involved within Tech's SBE. "The faculty has been very supportive in and outside of class, which put me in position to be a candidate for this award," he says. "It's an honor and a great compliment to be recognized by the School of Business and Economics."
Dana Johnson—Portage Health Project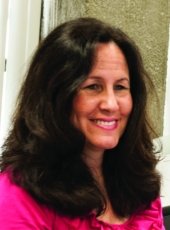 Business and engineering students from Professor Dana Johnson's Six Sigma and Quality Engineering courses worked with Portage Health on a series of projects last semester, enabling them to apply what they learn in the classroom to real-life situations.
Johnson worked with Portage Health to find projects that challenged the students to put their classwork into practice.
"I was able to take classroom lessons and apply them to real-world issues; this allowed me to gain industry Six Sigma project experience," said Destin'e Clark, a Michigan Tech alumna who majored in Operations and Systems Management and Marketing. "Being able to gain this knowledge and experience while still in school is exceptional and something employers will admire. The information and experience obtained in this course is very applicable to my career."
Both Portage Health and the students found the projects to be mutually beneficial.
"It's a win-win for Portage Health and Michigan Tech because the student gets real-life experience solving real-life problems that we implement that year," said Mark Randall, director of rehabilitation and sports medicine at Portage Health. "The students get to be a part of something useful and we benefit from getting an outside view of problem solving."
The projects with Portage gave the students a look at what working in real business situations is like and how to handle themselves, both on the business side and the problem-solving side. "Experiential learning is critical to student experiences," Johnson says.
Mark Roberts—Professor Emeritus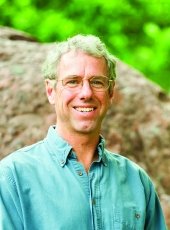 Mark Roberts, professor of economics, retired from the active faculty this spring. He lectured on alternative sources of electricity on his last day in front of a class, but he'll continue with his own energy econ at home, with a wood-heated, solar-powered house.
Roberts has a background in mining engineering (BS) and mineral economics (MS, PhD). His work is grounded in energy economics and the cycles of metal, energy, and commodity prices—a perfect fit for Michigan Tech. "This has been a great place to work," he says. "I enjoyed it here."
Dean Johnson—Assistant Dean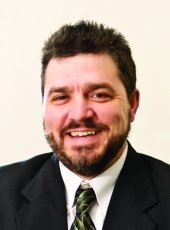 Dean Johnson, the James and Dolores Trethewey Professor in the School of Business of Economics and director of the Applied Portfolio Management Program, has been named assistant dean of SBE. He assumes this role during associate dean Tom Merz's sabbatical.
"I look forward to gaining administrative experience by joining the excellent SBE administrative team currently in place," Johnson says. "The administrative platform provides an opportunity to promote all areas of business education, as we seek to provide a quality education to our students. I believe business education is best accomplished through experiential education with a dynamic, interactive, growing student body."
Engineering Principles
As President of Dallas-based LSGI Advisors, Joe Dancy invests in energy companies. As a teacher, now at Southern Methodist University's School of Business, he uses that investment knowledge in the classroom. As a benefactor to Michigan Tech, he helps students and faculty master the market as well.
"The business and the education intertwine," he says. "Engineering principles help with how you drill, nd what's down there. The finance and legal sides [he's got an MBA and law degree] help with investing in smaller public companies. They are not Exxon or Chevron. APMP invests in small companies, too.

The Applied Portfolio Management Program allows students to invest more than $1 million of real money with great results. They won two international championships in 2014 thanks in great part to the LSGI Trading Room Dancy funded for the School.
"APMP is lucky to have Dean Johnson as advisor, one of the best teachers in Michigan," Dancy says. APMP's success has spurred SMU to create a portfolio team of their own, with an energy focus, and they want Dancy to become its faculty advisor.
With energy exploration, Dancy sees the connection between the hunt for resources with archeological digs by social sciences faculty and students.
"From an environmental point of view, you need to identify what is down there and keep track of where you got the artifact from, just like [Professor] Tim Scarlett and the students do," he says. "For the APMP, we discuss the SEC and work on discounted cash-flow spreadsheets like they do."
Real Success Rewarded at the Virtual Stock Market
The APMP Gold Team won the value category in the Global Asset Management Education (GAME) Forum IV, hosted by Quinnipiac University in New York City. They also won the Redefining Investment Strategy Education (RISE) competition in the same category with the same portfolio a week later at the University of Dayton.
At GAME, the team also got to participate in the daily NASDAQ closing.
Their results were impressive, according to Dean Johnson, who is Jim and Delores Trethewey Professor in the School of Business and Economics and the team's advisor.
"For the calendar year 2013, they showed a return of 29.66 percent," Johnson said. "In the value category, they are also judged on standard deviation, or risk, and theirs was a very low 1.7 percent."
That means for one year, the team's returns were very steady. In fact they only had one negative month. They grew their portfolio from $397,000 to $515,000.
Their best-performing stock?
"Jazz Pharmaceutical," said Brett Ludwig, member of the team. "It increased about 140 percent over the year." Other team members were Claire Johnson, Heath Johnson, Judy Isaacson, and Nathan Sturos. Overall, the team invested in twenty stocks and three bonds, employing a value approach in which they focus more on the "here and now, not the future growth," according to Isaacson.
The team uses different criteria when picking stocks, including price- to-earning, price-to-book value, and how many analysts are following it. "We choose the ones that aren't being looked at a lot, so we'll have an advantage over others who might choose those more- popular ones," Johnson said.
They picked well, having no losing stocks over the year. "We're glad we didn't sell Jazz in November, like we were thinking," said Sturos. Ludwig, Sturos, and Isaacson also ventured to Dayton with the same portfolio, for the annual RISE investment competition.
One major difference compared to other student funds, according to Johnson, is that the APMP teams control all aspects of the money that they have grown, from investment philosophy to asset allocation to asset selection.
"Our students have complete control," he said. "The Advisory Board hires them, and they make all the decisions, instead of just pitching a stock to experts.
Michigan Technological University is a public research university founded in 1885 in Houghton, Michigan, and is home to more than 7,000 students from 55 countries around the world. Consistently ranked among the best universities in the country for return on investment, Michigan's flagship technological university offers more than 120 undergraduate and graduate degree programs in science and technology, engineering, computing, forestry, business and economics, health professions, humanities, mathematics, social sciences, and the arts. The rural campus is situated just miles from Lake Superior in Michigan's Upper Peninsula, offering year-round opportunities for outdoor adventure.