On Campus
Poppy King started her first business when she was eighteen, forging success from a unique idea. Since then, the native of Melbourne, Australia, has earned the title of Lipstick Queen by introducing a series of cosmetic products that have garnered a fervent global following.
The Lipstick Queen
King believes that anyone can transform a great idea into a thriving business. She brought that inspiring message to the Michigan Tech campus during Entrepreneurship Week in November. As this year's Distinguished Entrepreneur, King shared her success story and offered advice to enterprising students.
During Entrepreneurship Week, Michigan Tech joins the global celebration of business innovation and enterprise. This year, the event was sponsored and organized by a student group, the Entrepreneurs Club, with support from the Institute for Leadership and Innovation (formerly CenTILE), the School of Business and Economics, and grants from the Michigan Initiative for Innovation and Entrepreneurship.
Larry Mark, president of the Entrepreneurs Club, said that he encouraged his peers of all majors to check out the Entrepreneurship Week events.
"Students gained a lot of knowledge, and it was fun and entertaining, too," he said.
As part of the weeklong slate of events, several self-made women and men joined Poppy King in visiting the campus and talking with students about how to become an entrepreneur. Students also got the chance to take their own business ideas for a test run.
Entrepreneurship Week Events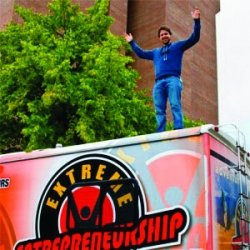 Extreme Entrepreneurship Tour
The national tour returned for the third consecutive year to Michigan Tech. During a high-energy presentation, a lively group of young entrepreneurs from diverse corners of the business world discussed how they've carved out their own niches and answered questions from students who want to do the same.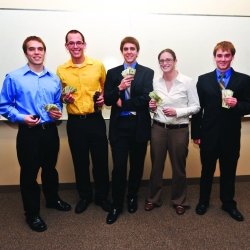 Elevator Pitch Competition
In rapid-fire fashion, students presented their ideas for new businesses during this fast-paced annual contest. The winners received seed money to help make their concepts a reality and will have the opportunity to travel to Chicago this year for a national elevator pitch competition.
Women in Technology Panel Gets Female Professionals Talking
Women who work in technological fields have stories to tell. That's why Associate Professors Mari W. Buche and Chelley M. Vician invited a diverse group of female technology professionals to describe their experiences during the second annual Women in Technology event.
The event was hosted by the School of Business and Economics in March as part of Michigan Tech's campus-wide Women's Month. The panel discussion was sponsored by a grant from the Ford Foundation.
Buche and Vician brought together women who are at different points on their career trajectories for a candid discussion.
The panelists were Michele Blau, IBM, senior manager, IT delivery project management and enterprise automation distributed services; Lara Lane, Ford Motor Company, NextGen AVS application supervisor; Amy Lemley, self-employed, computer diagnostics and repair; Sue Lines, self-employed, IT services and business consulting; and Cindy Watson, Ford Motor Company, ITO S3 supervisor, order fulfillment practice.
"Students also had the opportunity to chat with the panelists at a reception and attend an evening workshop," Buche said. " The event was created to attract more women to technology fields and to explain some of the wide variety of career choices and paths available," she said.
The panelists stressed that technology careers do not necessarily involve programming, writing code, or residing in a cubicle. Social interaction, interpersonal communication, and problem-solving skills are vital for anyone entering these career tracks.
The panelists agreed that technology-related careers are rewarding and constantly changing.
Michigan Technological University is a public research university founded in 1885 in Houghton, Michigan, and is home to more than 7,000 students from 55 countries around the world. Consistently ranked among the best universities in the country for return on investment, Michigan's flagship technological university offers more than 120 undergraduate and graduate degree programs in science and technology, engineering, computing, forestry, business and economics, health professions, humanities, mathematics, social sciences, and the arts. The rural campus is situated just miles from Lake Superior in Michigan's Upper Peninsula, offering year-round opportunities for outdoor adventure.