In the past four years, the School of Business and Economics has welcomed ten new faculty members in various disciplines. These new professors complement our strong existing faculty and broaden the base of expertise in all facets of business education. "With an extensive recruiting process, we brought people to campus who have a wide range of competencies," said Dean Darrell Radson. "Together with our foundational faculty members, the resulting team is poised to help the School achieve its major educational goals and to build a comprehensive education program for Michigan Tech."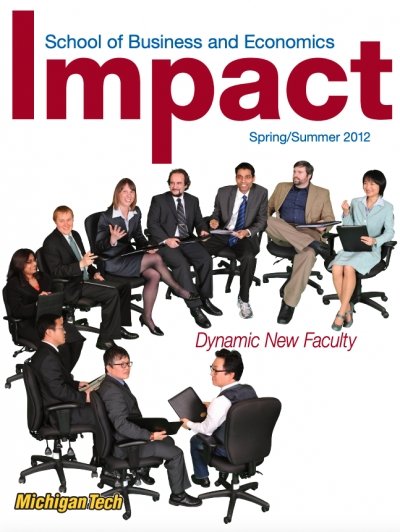 On the cover: New faces with big plans for shaping business and economics.
---
Impact is produced by Michigan Technological University's School of Business and Economics and University Marketing and Communications.
Dean: Darrel Radson
Director of Marketing and Communications: Lynn Czarnecki Makela
Design: Bill Tembreull, Creative Director, University Marketing and Communications
Contributors: Erin Kauppila, Darrell Radson, Dennis Walikainen
Photography: Sarah Bird, John Hatch, Kayleigh White
Please send correspondence to impact@mtu.edu.