"Student Millionaires" Tackle Wall Street

What would you do with $1 million? For most people, it is a daydream. For some lucky School of Business and Economics students, it is their amazing reality. Students in the Applied Portfolio Management Program (APMP) have become millionaires of sorts. Although they do not have the luxuries the term implies, they have the privilege of managing an investment portfolio worth more than $1.2 million.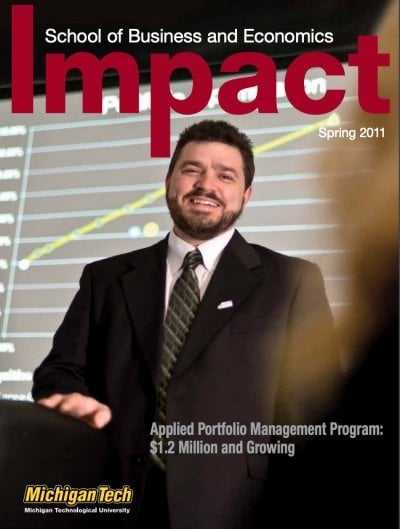 On the cover: Thirteen Years of Success for the Applied Portfolio Management Program
---
Impact is produced by Michigan Technological University's School of Business and Economics and University Marketing and Communications.
Dean: Darrel Radson
Director of Marketing and Communications: Lynn Czarnecki
Editor: Suzanne McDonough
Design: Bill Tembreull, Creative Director, University Marketing and Communications
Contributors: Suzanne McDonough, Erin Kauppila, Lynn Czarnecki, Darrell Radson, Dennis Walikainen
Photography: Ryan Schumacher, Adam Johnson (Brockit Photography), Greg Maino (Juskuz Photography)
Please send correspondence to impact@mtu.edu.