Tech Business Grad Cam Ellsworth '05 Named DIII Coach of the Year
Former Michigan Tech goaltender Cam Ellsworth '05 was awarded the 2020 Edward Jeremiah Award as the NCAA Division III National Coach of the Year. Ellsworth, head coach of Norwich University, was also named the New England Hockey Conference Coach of the Year.
The Edward Jeremiah Award is named in honor of the great Dartmouth College head coach and was first presented in 1970. The award is selected by the coaches in the American Hockey Coaches Association (AHCA).
Ellsworth played for Michigan Tech from 2001-05 and is the program's all-time leader in games played (117) and saves (3,510). He was an All-WCHA Third Team selection in 2005 and a three-time WCHA All-Academic Team member. Ellsworth also twice received Tech's George McCarthy Performance Award for scholastic and athletic achievement. The 2005 Huskies business administration grad went on to earn a master's degree in business with a concentration in managerial leadership from UMass Lowell.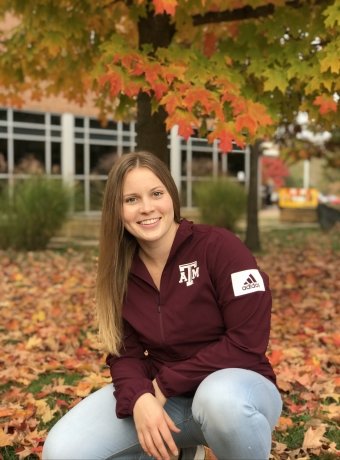 Alumna Jamie Dompier '17 Finds Role With Aggies
Since graduating from Michigan Tech with a dual major in management and sports and fitness management just four years ago, Jamie Dompier has completed a dual master's program in sport leadership and business administration at Virginia Commonwealth University, where she discovered her passion in college athletic business administration.
Now Dompier, a native Yooper, has landed a role with the Aggies athletic department at Texas A&M University. As a business coordinator in internal operations, she handles the finances of the department, overseeing travel expenses, managing the travel reconciliation process, and auditing the travel approvals.
"I am grateful to be starting my career in college athletic business administration and I look forward to continuing to learn in my role and grow," Dompier says.
During her undergraduate years as a Husky, she was a sprinter on the women's track and field team. She is still a part of the 4x100 and 4x400 relay record-holding teams and holds the 200-meter record. Dompier earned GLIAC All-Academic Excellence Team honors for three seasons and was a recipient of the NCAA 2017-18 Division II Degree-Completion Award.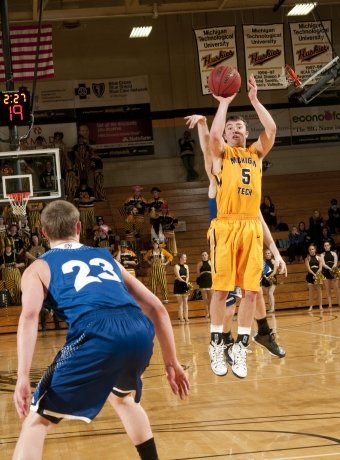 Alumnus Ben Stelzer '15 Back with Huskies Basketball
Business alumnus Ben Stelzer '15 joins the Michigan Tech men's basketball program as assistant coach for the 2021-22 season. Stelzer returns to Houghton after playing professional basketball overseas and coaching at several levels. He earned a Bachelor of Science in Finance and a minor in economics from the Michigan Tech College of Business.
Stelzer's collegiate playing career began in 2011. He was a four-year starter and three-year captain for the Huskies. Stelzer finished as the program's all-time leader in three-pointers (363) and shot 44 percent as a senior. He was also named NCAA Division II All-American, Academic All-American, and Midwest Region Player of the Year, leading the Huskies to three NCAA Tournament appearances and a trip to the NCAA Division II Sweet 16. After college, Stelzer played in Spain for Layma Basquet Coruna and led the league in total three-pointers made and helped his team advance to the playoff semifinals.
He was on the men's basketball staff at University of Wisconsin-Oshkosh as assistant coach during their 2019 NCAA Division III national championship run. Since 2019, Stelzer has held the position of player development intern with the Dallas Mavericks as well as Solid Base Skills and Drills website developer and owner, which provides remote player development training for players and teams from youth to college.
COB Welcomes Two New Alumni-Members To The Dean's Advisory Council
The Dean's Advisory Council (DAC) is an organization dedicated to helping the College of Business to be a top choice for business education among students and employers. DAC provides a link to individuals and organizations that possess the resources, knowledge, and contacts the College requires to achieve its mission. The Council is composed of business professionals chosen for their experience and expertise in leading businesses or public and nonprofit organizations and for their commitment to the College of Business.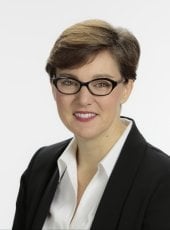 Juli Musch '87 graduated with a Bachelor of Science in Business Administration from Michigan Tech and earned her MBA from Wayne State University. She is the CFO of Arden Companies, a manufacturer of outdoor furniture cushions, with more than 30 years of finance experience in treasury, accounting, and investor relations working at Fortune 500s, start-ups, and ESOP and privately held companies. Musch is a member of the Presidential Council of Alumnae and actively supports foster youth in Oakland County, Michigan. She is married to an MTU alumnus and together they share two daughters and a son-in-law.
---
Kevin Wampler '86 is the CFO of Dollar Tree Inc. Prior to joining Dollar Tree, Wampler served as CFO of The Finish Line Inc. A certified public accountant, he began his career at Ernst & Young after graduating from Michigan Tech in 1986.
Wampler served on the Indianapolis 500 Festival Board, as a trustee for the Norfolk Botanical Garden, and as a Boy Scouts of America leader. He was inducted into the School of Business and Economics Academy of Business in 2017, and resides in Virginia Beach with his wife, Renee. The couple has two adult children.
---
Michigan Technological University is a public research university founded in 1885 in Houghton, Michigan, and is home to more than 7,000 students from 55 countries around the world. Consistently ranked among the best universities in the country for return on investment, Michigan's flagship technological university offers more than 120 undergraduate and graduate degree programs in science and technology, engineering, computing, forestry, business and economics, health professions, humanities, mathematics, social sciences, and the arts. The rural campus is situated just miles from Lake Superior in Michigan's Upper Peninsula, offering year-round opportunities for outdoor adventure.