Materials Processing and Fabrication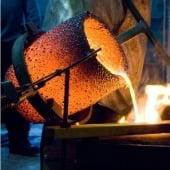 Metal Casting (Foundry)
The foundry facility supports metal-casting activities, primarily focusing on aluminum and iron. Michigan Tech is one of only a handful of education institutions nationwide that have retained an in-house foundry. Undergraduate students, graduate students, faculty, research staff, and Enterprise teams use the facilities for educational and research purposes. In addition, the University provides casting services to select industry partners.
Specialized lab equipment includes
Die Caster
High Vacuum Induction Caster
High Pressure Induction Melter
Arc Melter
Melt Spinner
Directional Solidification and Crystal Growth
Induction Melting
Vacuum Induction Melting
Extrusion Press
Rolling Mill
Hammer Swage
Wire Drawing
Contacts: Paul Sanders and Matt Otte
Location: M&M 107
---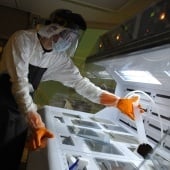 Microfabrication Facility
The Microfabrication Facility, managed by the Department of Electrical and Computer Engineering, is a member of the Michigan Tech Materials Characterization and Fabrication Facilities. Lab activities include micro- and nanoscale research and development of solid-state electronics, microelectromechanical systems (MEMS), and microsystems materials and devices.
Contact: Paul Bergstrom
Location: EERC 630
---
Labs and Equipment
Location
Contact

Deformation Processing

Powder Processing

Powder Mixing, Powder Compaction, Cold Isostatic
and Hot Isostatic Pressing, Mechanical Alloying

M&M 531
Paul Fraley

Hot Vacuum Isostatic Press

Inert Atmosphere Processing

Thermal Processing and Heat Treatment

M&M 530
Paul Fraley
Machine Shop

CNC Machining and Welding/Joining

Microwave Processing

Particulate Separation

Photovoltaics and Solar Cells