| December 6, 2018 | Theme: Water Resources |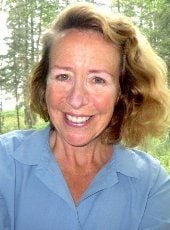 Lecturer
Distinguished Professor Nancy Langton
Topic
Sustaining Lake Superior
TechTalks presented by Great Lakes Research Center affiliates:
This special iteration of the Research Forum series will be a combination for a Distinguished Lecture (20 minutes) and several TechTalks presentations (2 Minute. 2 Slides)
Research Statement
How can communities help sustain the health of Lake Superior in the face of climate change? The challenges facing Lake Superior are many—yet local, regional, and international communities overcame enormous threats to the lake's ecosystems in the past century. My research asks: What can we learn from the recoveries around Lake Superior over the past century, as we face new interconnected challenges from climate change, synthetic chemicals, and forest change?
Six Questions with Professor Langton
1
You are an environmental historian whose research explores the connections between toxics, environmental health, and industrial changes. How did you come to choose this path? Or, did it choose you?
I did my PhD research in ecology at the University of Washington, working for two field seasons on carmine bee-eaters in a national park in Zimbabwe along the Zambezi River, on the border with Zambia. While I was there, Zambian rhino poachers were crossing the river into Zimbabwe, and park authorities ordered the guards to shoot any black Africans found in the park on sight, on the assumption they were poachers. But other pressures were forcing ordinary Zimbabweans into the parks. President Mugabe's corrupt government was enacting repressive policies in cities, and the legacies of colonialism and a decades-long drought meant that displaced farmers were fleeing into the national parks, hoping to find arable lands to support their families. I had never heard of land tenure or environmental history, but it became increasingly clear to me that solving environmental conflicts meant taking human communities—and their histories—into account. When my research in Zimbabwe became too dangerous to complete, I came back to the US and did an independent PhD on the environmental history of fire and forest health in the arid West—an increasingly hot topic now, of course.
2
How do your research and teaching complement each other?
My research has always been driven by a desire to understand why environmental problems have come about, which means combining historic context with a clear understanding of ecological and human change. In my teaching, I bring the same interdisciplinary perspective, using case studies to integrate various approaches to solving environmental problems. I am a firm believer that a better understanding of history can help keep us from repeating the same mistakes.
3
What has changed the most in your fields of expertise over the past decade (or two)?
When I started my research, many scholars assumed that people and nature could be separated, and we could understand ecological processes without understanding social processes. Few ecologists believe that any more. A decade ago, we knew that climate change was an enormous problem, but few of us understood it to be the existential threat we now know it is.
4
What is the biggest challenge in your fields of expertise?
Integrating data from across diverse disciplines. Environmental historians still need to use historical archives, but they also need to understand climate data, atmospheric data, forest cover data, water quality data—and no one person can do all of that on their own. Working in interdisciplinary teams is challenging, but necessary and rewarding.
5
How does Michigan Tech work for you as a home base?
There's no better place to work on interdisciplinary studies of Lake Superior and the north!
6
What's next in your research?
I'm now working on climate change, toxics, and animal migrations in the north, focusing on woodland caribou, common loons, and coaster brook trout. I want to understand how climate history can help us better manage threatened wildlife populations in a time of rapid change.
TechTalks
Sarah Fayen Scarlett
Department of Social Sciences
"Community-Engaged Historical GIS and the Politics of Place"
Cultural repair work in post-industrial communities like Michigan's Copper Country must attend to the individual politics of place. A community-engaged historical GIS project called the Keweenaw Time Traveler is an online interactive atlas built to engage descendent communities in residence and on the web with place-based story-telling and intergenerational conversations about shared landscapes. Countering the forced forgetting that accompanies deindustrialization and enfranchising historically excluded groups, which generally divide along class lines, requires long-term public history programming to create meaningful conversations today about the legacies of the past that continue to shape our communities.
---
Casey Huckins
Department of Biological Sciences
"Migratory Coaster Brook Trout Face an Upstream Battle"
Adfluvial Brook Trout, Salvelinus fontinalis, commonly known as coasters, were abundant in Lake Superior until the late 1800s when human actions reduced populations to the scattered remnants that persist today. While we actively work to find and restore these populations, they provide opportunities to understand the ecology and implications of this life history form. As with all the work we do in my research group we strive to develop synergy between basic research, restoration, and monitoring to help sustain our aquatic ecosystems.
---
Sarah Green
Department of Chemistry
"Teaching global climate change and regional impacts"
Our students will live on a planet very different from the one on which civilization has developed. I am teaching the science and policy aspects of this transition in an interdisciplinary course that includes both science and non-science participants. Understanding and responding to our changing world are becoming essential for all students and could be better incorporated throughout the Michigan Tech curriculum.
---
Donald Lafreniere
Department of Social Sciences
"Building Community Resiliency through Geospatial Technologies and Big Data"
Deindustrialization, climate change, globalization, resource extraction... the list of pressures and challenges to communities of the Great Lakes is vast. In this talk, I will outline two concurrent community-based projects that use geospatial technologies and big data to help communities in Michigan become more resilient to the changes in neighborhoods, economies, and the environment. The GRACE Project (GIS Resources and Applications for Career Education) has recently completed its fifth year of training Michigan teachers and high school students in the use of GIS technologies to solve community and economic development issues. The Copper Country Historical Spatial Data Infrastructure project has been developing a space-time linked big dataset of the built and social environments of the region from the 1850s to present to aid researchers and policymakers alike in understanding the legacy effects of industrialization and the subsequent impacts of deindustrialization on our communities.