The Distinguished Lecture Series started in Fall 2016 to honor faculty for their research impact. Department chairs, center/institute directors, deans, and Research Advisory Council members nominate highly engaging presenters with broad topic appeal. Distinguished Lecturers are selected for their ability to increase the knowledge of our community by connecting their research with societal and community concerns. Topics are broad, spanning all colleges and schools at Michigan Tech. Nominees are reviewed by committee twice per year and announced at the beginning of fall and spring semesters.
Schedule
4 p.m. Networking
4:30 p.m. Lecture
5:00 p.m. Networking
|

February 17, 2022

|Theme:

Motion and Technology

|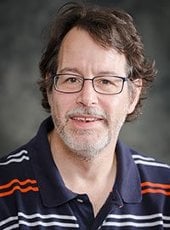 Lecturer
University Professor Dr. Robert Nemiroff
Topic
Faster than Light: What Can Do It and What Can't
Research Statement
Einstein would agree that some things really can move faster than light. What are they?
How do they do it? And is there any way this can be practically useful? To explore the
unusual landscape of the superluminal, a series of seemingly-straightforward
conceptual puzzles are presented along with their sometimes counter-intuitive answers.
How modern technology can make superluminal motion practically useful is then
reviewed.