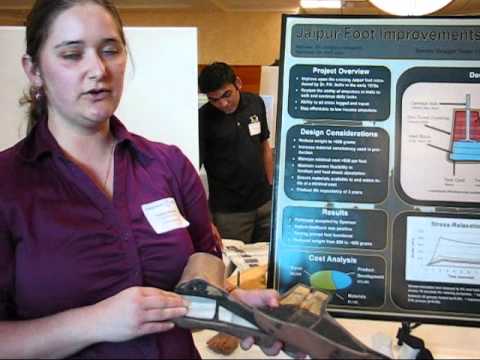 Jaipur Foot Improvements
Team Members
Victoria Demers, Mechanical Engineering; Allison
Lebovsky, Biomedical Engineering/Mechanical
Engineering; Paul Sturmer, Robert Strobel and
Marcel Kerkove, Mechanical Engineering; and
Stefanie Bass, Biomedical Engineering
Advisor
Dr. Gregory Odegard and Dr. Anil Jain, Jaipur, India
Sponsor
Department of Mechanical Engineering-Engineering
Mechanics
Project Overview
We are dedicated to the improvement of the Jaipur Foot, a prosthetic used for low-income patients. The foot is labor-intensive and made by hand. Targeted areas of improvement include weight reduction, flexibility, and quality control. The team traveled to India in March to meet with the sponsor and to have the prototype tested.
---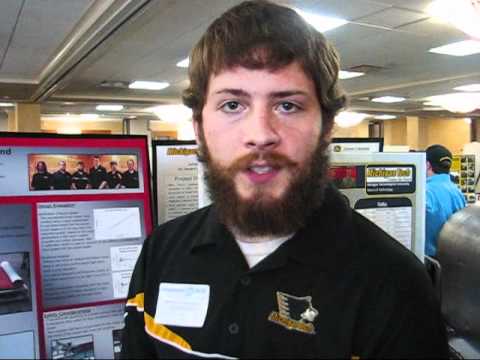 Automated Carpet Cleaning Test Stand
Team Members
Andrew Bitely, Brent Guimont, Michael Hojnacki,
Zacharey Hussong, and Jim Shortland, Mechanical
Engineering
Advisor
Sponsor
BISSELL Homecare, Inc.
Project Overview
We were given the task to design and build an automated carpet-cleaning test fixture for BISSELL Homecare. This device will help BISSELL optimize the performance of its vacuums by allowing the company to evaluate prototype brush chambers on its vacuum cleaners before completely developing a new vacuum.
---
Assault Climbing Device
Team Members
Nick Charters, Alex Cotton, Jeff Kangas, Adam
Reich, and Collin Veele, Mechanical Engineering
Advisor
Dr. Adam Loukus
Sponsor
Air Force Office of Scientific Research
Project Overview
In rescue and assault operations, soldiers are required to access locations that require the climbing of vertical obstacles in high-risk, nonpermissive environments. Using current methods, the physical demands of such climbs are very high. Also, grapples are not effective in many instances due to the lack of a grappling hold, and the long distances needed to throw the grapple/rope are beyond the capability of the troops. The Air Force Office of Scientific Research is sponsoring a national design contest among fifteen universities to create a functional prototype that provides a solution to the problem of assault and rescue climbing missions.
---
Cost-Optimized Prosthetic Knee Joint
Team Members
Elizabeth Anne Dancy, Biomedical Engineering;
Matthew Goldsworthy, Aram Kim, Laura Maciosek
and Anna Miller, Mechanical Engineering; and Kelsy
Ryskamp, Mechanical and Biomedical Engineering
Advisor
Sponsor
Dr. Rajesh Malhotra, All India Institute of Medical
Sciences
Project Overview
We are designing a cost-optimized prosthetic knee joint for transfemoral amputees in India that can be manufactured with local materials and infrastructure. We delivered and tested the prototype to our sponsor in March 2012.
---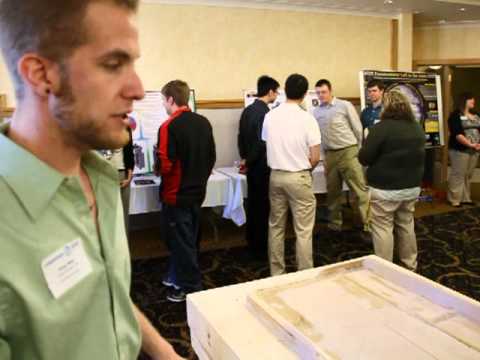 Laundry Work Surface
Team Members
Ruiyu Kang, Aaron Moore, Nick Pomeroy, Stephen
Whittaker, and Drew Maki, Mechanical Engineering
Advisor
Charles Van Karsen and Dr. William Endres
Sponsor
Whirlpool
Project Overview
Our goal is to redesign the Laundry 123 Work Surface produced by Whirlpool Corporation. This involves changing from an injection-molding process to a thermoforming process.
---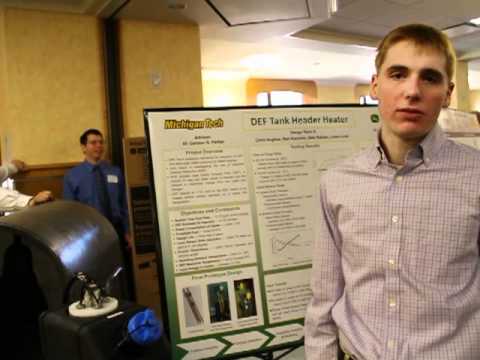 Electric DEF Tank Header Heater
Team Members
Lukas Lund, Alex Kaidan, and Chris Hughes, Mechanical Engineering; and Ron Kaunisto, Civil Engineering/Mechanical Engineering
Advisor
Sponsor
John Deere
Project Overview
John Deere is required to meet US EPA-mandated (tier 4) emission standards, aimed at reducing environmental impact of diesel engines, all by 2014. These standards specify the reduction of nitrous oxides (NOx) and particulate matter. John Deere is investigating the use of Selective Catalytic Reduction (SCR) systems to reduce NOx from the exhaust of diesel engines. This process uses a urea solution, called diesel exhaust fluid (DEF), which is injected into the exhaust and then converted into ammonia to chemically transform the NOx into nitrogen and water molecules. DEF freezes at -11C; therefore, vehicles operating below this temperature will require the DEF to be thawed. EPA regulations require injection to start within seventy minutes of startup at -18C. By this time, there must be adequate DEF available to maintain injection. The components needed for operation include a fluid heater, a temperature sensor, a level sensor, a suction line, and a return line within a five-gallon tank.
---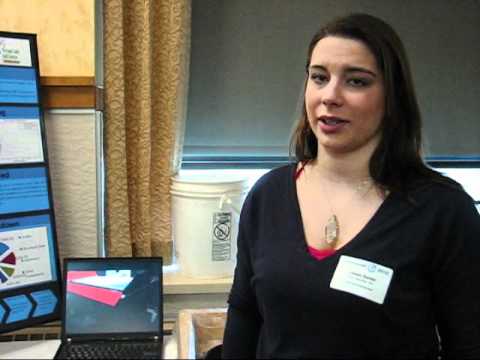 Portable Sand and Soil Sifter
Team Members
Alex MacLeod, Yachan Zhang, Bob Williams, Colleen Switlik, and Steve Schmiedeknecht, Mechanical Engineering
Advisor
Dr. Michele Miller
Sponsor
Portage Lake Golf Course
Project Overview
The Portage Lake Golf Course requires a machine that will sift multiple grades of sand and soil. Currently the method that is used to sift soil is purely manual, and thirty to forty hours per week are put into sifting soil. There is no method to sift sand. The goal of the project is to develop a method to sift sand and soil to reduce working hours and improve course quality.
---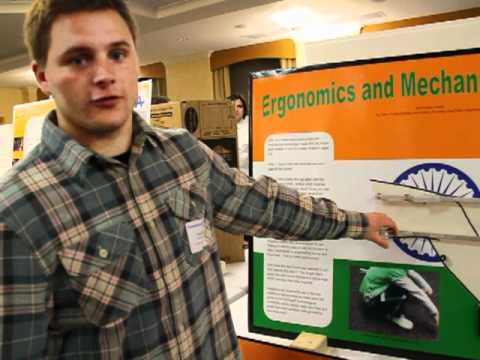 Knee Brace Locking Mechanism
Team Members
Craig Pietila, Mikel Marshall, Bryan Rocheleau, Zhi
Zhang, and Chris Pollock, Mechanical Engineering
Advisor
Sponsor
Department of Mechanical Engineering-Engineering
Mechanics
Project Overview
We are working to improve the locking mechanism on a knee brace used by children in India. The current lock is too difficult for the children to operate, so our task is to redesign the locking mechanism to make it easier to use.
---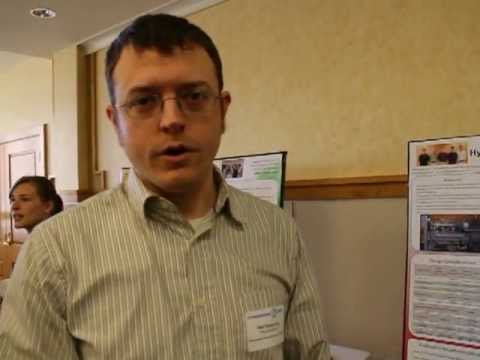 MTS Hydraulic Power Unit Efficiency Optimization
Team Members
Tyler Muckenhirn, Neil Rumschlag, Peter Henning,
Yu Ge, and Haoefei Xie, Mechanical Engineering
Advisor
Michael LaCourt
Sponsor
MTS Systems
Project Overview
MTS Systems Corporation wants to reduce the water usage of their hydraulic oil coolers on the hydraulic power units they manufacture. By increasing the thermal efficiency and better controlling the cooling process, a lower water flow rate can be used to remove the same amount of heat from the oil.
---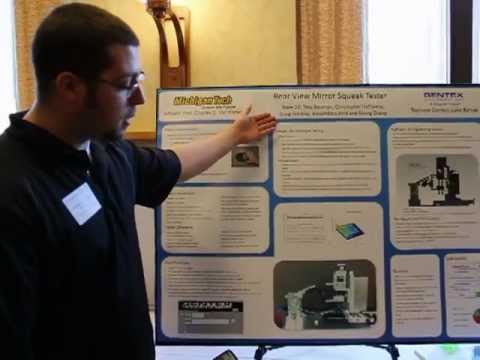 Gentex Rear View Mirror Squeak Tester
Team Members
Troy Bouman, Christopher Hathaway, Craig
Jeplawy, Alexandrea Reid, and Sheng Zhang,
Mechanical Engineering
Advisor
Charles Van Karsen and Dr. William Endres
Sponsor
Gentex
Project Overview
We are designing and producing a prototype of a device that will repeatably and objectively evaluate a mirror's propensity for creak/squeak during repositioning. The device will simulate a typical grip and movement that a driver introduces during mirror repositioning and quantify any noise response resulting from it. We will evaluate various approaches to this end, ultimately designing and prototyping a device based on the approach found to be optimal. The device must be highly adaptable and able to accommodate many types of windshield mounts and mirror designs. Signal processing may be employed to selectively filter background or other input not associated with any mirror body response.
---
Jeep Wrangler Door Check
Team Members
Samantha Meader, Yi Sui, Nathan Wastell, and
Cory Karosa, Mechanical Engineering
Advisor
Sponsor
Chrysler
Project Overview
The 2007 and current JK generation of the Jeep Wrangler—two- and four-door variants—are manufactured and sold without a door-check mechanism. A door check is a mechanical device used to hold the door open at various detents (angles). The current Wrangler only uses a nylon strap to stop the door from making contact with the front fenders of the vehicle. The largest consumer complaint is that the vehicle doors can close when parked on a slight incline. We have been presented with the task of designing a door check, which must contain at least two detents (mid-angle and full-open); provide a way of easy removal of the doors; meet all of Chrysler's Design Verification Plan and Report requirements (DVP&R); and not impede the door-closing velocity or effort.
---
Diesel Engine Cavitation Observation Apparatus
Team Members
Nick Nemethy, Electrical Engineering; and Trent
Alexander, Brian Judson, Evan Lucas, Todd
McIntosh, and Tim Reinke, Mechanical Engineering
Advisor
Dr. Charles Margraves
Sponsor
John Deere
Project Overview
Diesel engine coolant cavitation is a very serious condition that over time can easily destroy an engine. Cavitation is the formation and implosion of very small vapor cavities/bubbles within a liquid. Sonoluminescence, light emission from cavitation, is the phenomenon by which cavitation will be observed. Imaging cavitation on a running engine has never been attempted before. We are developing an imaging system that will allow John Deere to observe cavitation on a running engine, as well as a system to calibrate the camera system and ensure that it is working properly. We are also developing a test procedure to run on the test engine.
---
Accessible Light Fixture Accessory (ALFA)
Team Members
James Maercklein, Abdulrahman Blaisi, Jeffery
Squires, and Su Ting Lau, Mechanical Engineering
Advisor
Sponsor
Greg Storm, GLS Innovations
Project Overview
We are developing a device to simplify and make safer the servicing (changing light bulbs, cleaning, replacing fixture) of common ceiling and wall light fixtures that are beyond reach of the common individual, whether standing or sitting at floor level.
---
Diesel Engine Emergency Shutdown Testing Apparatus
Team Members
Jay Anderson, Eric Link, Doug Yossida, Jan Schneewind, and Mike Bork, Mechanical Engineering
Advisor
Dr. Charles Margraves
Sponsor
EJ
Project Overview
We are in the process of designing and fabricating an apparatus that will allow engine manufacturers to identify performance requirements for emergency air shutoff valves using empirical testing methods. Emergency shutoff valves are required safety equipment for diesel engines in various markets, and our apparatus will facilitate appropriate cost reductions and design improvements to these components through the use of innovative testing equipment and procedures.
---
Pipelayer Boom Design and Functionality Improvement
Team Members
Louis Braun, Jesse Vandenberg, Bryan Finn, Spike
Gralewski, and Ross Vandenbosch, Mechanical
Engineering
Advisor
Sponsor
Caterpillar
Project Overview
We are introducing a boom design update with additional degrees of freedom for the Caterpillar Pipelaying Boom. Thoughts at the onset of this project indicate the need for introduction of small fore-aft movement, up to a foot and a half in either direction. This must be done without decreasing the payload of the boom. We will also take care not to decrease or compromise the structural integrity of the boom while introducing this motion capability.
---
Dual-Speed Auto-Shift Landing Gear
Team Members
Steven Johns, Minglei Guan, Benjamin Madsen, Kyle Nordling, and Brian Oestreich, Mechanical Engineering
Advisor
Dr. Michele Miller
Sponsor
Greg Laarman, Jost International
Project Overview
The objective of this project is to design a new landing gear product for semitrailers. The design will feature a dual-speed gearing system to automatically shift between high and low gear ranges, based on the state of loading, in order to improve ease of use and safety.
---