Tanya J. Klain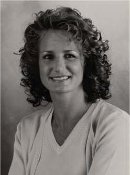 BS Mechanical Engineering 1990
Tanya's 1990 Mechanical Engineering degree from Michigan Tech serves her well in her current position with General Motors Corporation as Program Engineering Manager-Cadillac CTS, CTS-V and SRX. Upon graduating from the University, she went to work for GM and has remained with the company throughout her career. Her initial Validation Engineer position, and subsequent engineering positions, provided her the experience to continue moving up in the company. In 1998, she became General Assembly Launch Manager at the Detroit/Hamtramck Assembly Center, and the following year became Supervisor-Vehicle Architecture Design. Just prior to her current position she was Vehicle Chief-Engineering Business Manager. During her career with GM, Tanya continued her education at the University of Michigan receiving her MBA in 1994.
Tanya was very involved in campus life while attending Michigan Tech. She served as the Douglass Houghton Hall president, Inter-Residence Council Hall secretary, and she was a member of the Undergraduate Student Government. In addition, she joined the Society of Automotive Engineers in 1988, and is still a member today. She was a member of both the MTU Alpine Ski Team and the MTU Ski Club.
She was also involved in the MTU Peer Mentor program, and the Substance Abuse Advisory Committee. She was an active member of Alpha Gamma Delta, and was recognized in the 1988 and 1989 "Who's Who Among Students in American Colleges and Universities."
Tanya is able to help others at General Motors by serving as a mentor to interns and engineers, and by being a member of the GM Affinity Group for Women. Outside of work, she volunteers as an SAE "A World in Motion" coach at Detroit Vetal Elementary School.
She has maintained a strong relationship with Michigan Tech over the years, by serving as a member of the GM-Michigan Tech Relations Team and the GMMichigan Tech Recruiting Team. She also participates on the MTU ME-EM Endowment Committee.
Tanya resides in Novi, Michigan with her daughters, Samantha and Alexandra.