Tanya J. Klain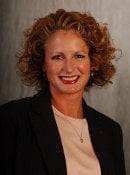 BS Mechanical Engineering 1990
The 2012 Outstanding Service Award posthumously honored Tanya Wareham Klain, who died on December 7, 2008.
Tanya earned a Bachelor of Science in Mechanical Engineering in 1990 and was a vibrant presence on campus. She was active in her sorority, Alpha Gamma Delta, Undergraduate Student Government, residence hall councils, the Alpine Ski Club, and the Michigan Tech Student Foundation. Besides earning a degree, she made friendships that endured. "Tech is famous for people staying together," she recalled.
After graduation, Tanya went to work for General Motors, where she advanced through several leadership positions and most recently held the position of engineering group manager in the area of body and exterior components. She was also a member of GM's university relations and recruiting team. An ardent supporter of Michigan Tech, she was GM's key contact with the Department of Mechanical Engineering-Engineering Mechanics.
As a Tech alumna, Tanya served on the Board of Directors of the Alumni Association and was very active in alumni events in the Detroit area. In 2004, Tanya was inducted into the Presidential Council of Alumnae in recognition of her professional accomplishments and her support for the University.
Her stewardship and leadership were based on fond memories of the University and a commitment to serve the institution. She always said that Michigan Tech transformed her life. "Coming to Tech was the best decision I ever made," she once said. "I owe the University a lot—pretty much everything."