Sabina Jenny Houle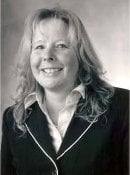 BS Chemical Engineering 1985
MS Chemical Engineering 1987
MS Mechanical Engineering 1987
Sabina is a three-time graduate of Michigan Tech. She received her BS in Chemical Engineering in 1985 then two master's degrees, in Chemical Engineering and Mechanical Engineering, in 1987. She also received a German translating certificate from the Gunter Institute. She also studied Polymer Physics through a graduate student exchange program at the Swiss Federal Institute of Technology.
In 1987, she began her career with the Dow Chemical Company as an Engineer; in 1989 she was promoted to the position of Senior Research Engineer. During her five-year tenure at Dow, she developed novel processes and equipment for new polymeric materials, BCBs and PBOs. In 1992, she joined the Donnelly Corporation as a Senior Materials Engineer. There she was responsible for the development of an adhesive process, and subsequent patent, that bonds PVC to glass for production of single-sided encapsulation. This development was used on Chrysler minivans and won Design of the Year at the North American Auto Show in Detroit. From there she moved to FKI Automotive as a Materials Engineer for Samsonite where she was lead for a team of engineers and suppliers responsible for developing the thermoplastic/thermoset resins to meet the next generation of luggage design requirements.
Sabina is currently a Module Engineering Group Leader with Intel Corporation. She began at Intel in 1997 as Senior Material Quality Engineer, became Senior Packaging Engineer in 1999, and Staff Engineer in 2001. She has led development teams in Japan, Germany, and across the U.S., mentoring suppliers to meet the company's packaging requirements and timelines. In her current position she manages a staff of engineers and technicians responsible for chip attach assembly technology for all Intel's Packaging Development programs. She has received eleven divisional awards in the past eight years.