Pamela S. Klyn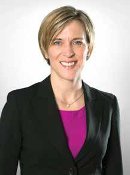 BS Mechanical Engineering 1993
Evolving the products and every day appliances that help make consumers' lives easier is the focus of alumna Pam Klyn ('93) in her role as Vice President of Products and Brands at Whirlpool.
Klyn launched her career with Whirlpool twenty years ago in engineering and then transitioned into product development, global innovation, and sales and marketing roles. In her previous role she served as General Manager of Cooking Products for North America, where she was responsible for establishing multi-year business plans and product strategies, including building a new factory in Cleveland, Tennessee.
Her move up the corporate ladder was accelerated by the results achieved through a management-system approach focused on improving enterprise-wide accountability for cost-savings efforts on the small and large scale. Klyn's approach helped Whirlpool reduce internal structural costs in order to create funding for new and improved products across the portfolio.
Pam was recognized as one of the "Top 40 under 40" Business Leaders in Michigan in 2005 and in early 2012 she was profiled in the Wall Street Journal article "From Rising Star to Senior Manager".
She is passionate about helping younger talent in the organization grow and develop. In addition to serving as a mentor for a number of individuals at Whirlpool, Pam is also co-lead of the Whirlpool Women's Network. Earlier this year this group hosted the first ever "Women's Summit" for top talent females at Whirlpool. The summit was titled "Power Your Path Forward" and provided tools and guidance for emerging female leaders to use to take charge of their careers and to give them the confidence to pursue roles at the highest levels of the organization.
While at Michigan Tech, Pam was a member of Delta Phi Epsilon Sorority and Omicron Delta Kappa leadership honor society. She was also a math tutor in the Math Lab. Pam has returned to campus a number of times as a guest speaker at the Women in Engineering summer program and has also been the Whirlpool lead for a number of Michigan Tech recruiting activities.
She has been a long-time advocate and supporter of Michigan Tech – serving as the Whirlpool Corporate Agent in the University's Matching Gift Competition for 10 years. She has also been an annual contributor providing financial support for numerous programs. She recently joined with two fellow alumnae to establish a scholarship fund to assist a student who is a member of the Delta Phi Epsilon sorority. Pam is currently a member of the Michigan Tech Presidents Club.
Pam has served on the Board of Directors for the United Federal Credit Union for seven years. She also serves on the Renaissance Fund Board for Harbor Shores, an organization dedicated to revitalizing the Benton Habor area. Pam also enjoys marathon running and has completed 23, including two Boston Marathons.
Pam currently lives in St. Joseph, Michigan, with her husband Steve and her step-children Parker (age 16) and Cara (age 13).
In recognition of Pamela Kyln's significant achievements, she was inducted into the Presidential Council of Alumnae (PCA) in 2012.
Excerpted from the 2012 PCA Induction Ceremony Program and the Mechanical Engineering-Engineering Mechanics 2013-14 Annual Report