Merrily D. Madero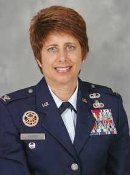 BS Mechanical Engineering 1985
Colonel Merrily Madero ('85) has been using the problem solving skills she initially learned as a mechanical engineering student at Michigan Tech to solve problems around the world.
Recently she was awarded the Bronze Star Medal for leading the Military Liaison unit at the US Embassy in Kabul, Afghanistan during multiple attacks. She also supported the US Embassy during fifty-three outside-the-wire missions in twenty different provinces throughout Afghanistan, bringing military support to numerous reconstruction and aid projects. She was the first Colonel to receive the US State Department's Meritorious Honor Award for her nearly thirteen months serving at the US Embassy, Kabul, Afghanistan.
Madero was selected to lead Air Force Space Command (AFSPC) through one of the largest force drawdowns, as the Director of Manpower, Personnel and Services. She also led the AFSPC Senior Steering Group to completely reorganize the AFSPC headquarters to most efficiently absorb significant personnel cuts and maintain their current critical space and cyber mission.
While a student at Michigan Tech, besides ROTC, Merrily was a member of Alpha Gamma Delta sorority, the Skydiving Club and was a captain on the intramural hockey team. She is active in her church as a junior high youth leader.
Colonel Madero has one daughter, Leia, and lives in San Angelo, Texas.
Colonel Madero was inducted into Michigan Tech's Presidential Council of Alumnae in 2007.
Excerpted, in part, from the Michigan Tech Mechanical Engineering-Engineering Mechanics 2013-14 Annual Report