Judy J. Swann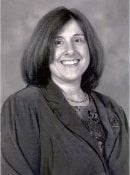 BS Mechanical Engineering 1983
Judy Swann earned a bachelor's degree in Mechanical Engineering from Michigan Tech in 1983. Following graduation, she accepted a position as a Patent Examiner with the Patent and Trademark Office of the United States Department of Commerce in Alexandria, Virginia. Judy has remained with the Patent Trademark Office throughout her career, and now serves as a supervisory Patent Examiner.
During the course of her career, Judy has received numerous professional awards for exemplary service, including two Department of Committee Bronze Medals, Superior Achievement Awards, and Exceptional Career Award, and the EEO Directors Award. She also continued her education in recent years, earning a master's of arts in Public Administration from Syracuse University in 2003.
Judy became a member of the Patent and Trademark Office Society in 1983 and has held various offices within the organization. She was honored by her peers in 1991 when she was elected to serve as the first female president of the PTO Society since its founding in 1917.she previously served as a secretary, administrator, and vice president of the society.
She was re-elected to a second term as president in 1992. Judy is currently the chairperson for the Board of Governors of the Journal of the Patent and Trademark Office Society, a professional development periodical published monthly by the PTO Society. She has also served on the US Patent and Trademark Worklife committee and worked with the Federal Women's Program.
While a student at Michigan Tech, Judy was active ROTC-Air Force as a Regulations Officer and Personnel Officer. She was also active in intramural sports, Volleyball Club, Sabre Jets Drill Team, and with the Michigan Tech Little Theatre as the drama club backstage manager. Judy also volunteers in her community and schools and recently raised $20,000 for Hurricane Katrina support.
Judy her husband, Tod, live in Alexandria, Virginia, with their daughter, Taylor and son, Travis.