Britta A. Jost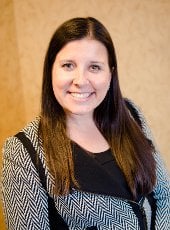 BS Mathematics 2002
MS Mechanical Engineering 2004
Britta graduated from Michigan Tech with a BS in Mathematics in 2002 and an MS in Mechanical Engineering in 2004. She is currently an Engineering Project Team Leader at Caterpillar, Inc. in Peoria, Illinois.
As team leader in Caterpillar's Medium Tractor Products division, Britta is responsible for all aspects of product value for tractors, including regular reporting and tracking of production costs, new product cost estimation, and leading projects to increase customer value. She has worked for Caterpillar for over 10 years in engineering positions, gaining progressive responsibility in the areas of analysis, validation, and design. She is also Caterpillar's lead engineering recruiter for Michigan Tech.
Britta has received numerous awards including the Society of Women Engineers-Distinguished New Engineer (2014), Peoria Illinois Forty Leaders Under Forty (2013), and the Central Illinois Society of Women Engineers Distinguished Member Award (2011). She was also the Michigan Tech Outstanding Young Alumna in 2015.
While at Tech, Britta was news editor of the Lode for three years—winning a Michigan Collegiate Press Association award in 2001. She was also an Orientation Team Leader and a USG representative. She was also honored for Exceptional Leader in Student Government, Most Inspirational Student Leader, and Most Spirited Student Leader, was academics chair of Delta Zeta, and was a Leadershape attendee and then coordinator.
Britta's passion for community service is evident in her work as a Court Appointed Special Advocate (CASA) for the past eight years. She works with abused and neglected children in the court system and has advocated for six different children in cases spanning multiple years. She contributes to CASA financially, has recruited several additional volunteers and has attended conferences—two state and one national.
An active member of the Society of Women Engineers, Britta served as Membership Chair of the Society as well as a member on several Society-level committees. She was President-Elect, President and Section Representative of the Central Illinois section, and is currently counselor for the Michigan collegiate section.
Britta's husband, Jeff, also graduated from Michigan Tech in 2004 with a BS in Mechanical Engineering Technology. He is a Senior Engineer at Caterpillar, with designing responsibility for large-track type tractor engine installation systems. Britta and Jeff have two children, Liesl and Warner.
From the 2016 Presidential Council of Alumnae Induction.