Wendy L. Davidson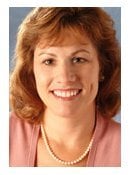 BS Mechanical Engineering 1991
Wendy received a bachelor's degree in Mechanical Engineering from Michigan Tech in 1991. She is currently the President of Edgestone Consulting Inc., a firm she founded in 2002. Wendy is also a graduate of the FastTrac II Entrepreneurial Program from the University of St. Thomas in St. Paul, Minnesota, and a business coach who completed the co-active coaching program through the Coaches Training Institute.
Wendy began her career as a Project Engineer with Flint Hills Resources (formerly Koch Refining Company) in St. Paul, Minnesota. Her experience at Michigan Tech helped prepare her to work in the primarily all-male environment of an oil refinery. She held several leadership roles during her seven-year tenure with Koch, successfully managing multi-million dollar construction projects and increasing profitability through process improvements.
In 1998, Wendy became a business consultant with GE Capital Consulting. She provided project management and business analysis guidance to companies such as Target, Best Buy, 3M, Northwest Airlines and UnitedHealth Group while at GE.
In 2001, Wendy moved into the world of small business when she joined The Credit Department, Inc., a provider of outsourced credit management services. There she assisted clients in improving cash flow.
Her experience at The Credit Department exposed Wendy to the development needs of emerging small businesses. She saw an opportunity to use her passion to help small businesses succeed. In 2002, Wendy founded Edgestone Consulting Inc.; she has since helped dozens of small business owners overcome growth challenges, seize new opportunities and increase their business success.
Wendy is passionate about helping women succeed in business. In 2007, she launched Entrespect®, a ground-breaking online community where women entrepreneurs link up to share best practices, solve tough problems and amplify their business insight and skills. Entrespect.com offers free expert interview podcasts, hosted by Wendy, featuring successful business owners and nationally recognized experts. Entrespect's "Strategy Club" provides entrepreneurs access to practical resources and tools to take their businesses to new levels of success.
In 2009, Wendy launched the Propel Business Leadership Program for women business owners. This powerful development program is designed to give women business owners the knowledge, skills, and support they need to take their business to the next level. Propel is a unique 12-month program that brings women business owners (in like industries and similar stages of business maturity) together to help them define and achieve their business growth goals.
Wendy currently serves on the Board of Directors for the Association of Women Contractors. She is a member of the Minnesota Coaches Association, Women Construction Owners & Executives USA, and the National Association of Women Business Owners. While a student at Tech, Wendy was a member of Alpha Delta Alpha sorority and continues to participate in alumni activities.
In 2010, in recognition of her significant achievements, Wendy was inducted into the Presidential Council of Alumnae.

This profile appeared in the 2010 Presidential Council of Alumnae induction program.