Steven Ma, PE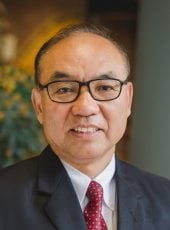 Professor of Practice, Mechanical Engineering–Engineering Mechanics
PhD, Structure Dynamics, State University of New York at Buffalo
Biography
Dr. Steven Ma graduated from the State University of New York at Buffalo in 1991 with a PhD in Structural Dynamics. He received his MS degree in 1986 from Beijing Polytechnic University and a BS degree in 1983 from Beihang University.
In 1993, Steven joined Strippit/LVD and started his machine design and manufacturing career. Strippit/LVD is a CNC machine tool company that manufactures CNC turret punch press, brake, shear, laser, and plasma cutting machine tools.
In 2000, Steven joined Parker Hannifin as a manufacturing engineer, exposing him to various type of manual/CNC metal cutting machine tools.
In 2002, Steven joined Atlas Copco and moved to Texas. He held two positions during his 12-year tenure: lead design engineer and engineering manager. He participated in and led many product design projects involving capital mobile drilling equipment design, analysis, test, hydraulics, electro-hydraulic control, buckling, welding, and fatigue.
Steven worked for Caterpillar for almost two years before joining Kobelco in 2015 as chief engineer for its Rubber Processing Machinery Division. Kobelco is a premier manufacturer of the world's largest rubber mixing equipment, for which Steven has leadership design responsibility.
Steven has been an adjunct professor since 2006 at the University of Texas-Arlington and the University of Akron. His industry based, hands-on design and manufacturing experience make his teaching more compelling for students. Steven has two design patents awarded. He is a certified PE in the state of New York.
Areas of Expertise
Design of Mobile Drilling Equipment
Hydraulics and Electro-Hydraulic Control
Welding & Fatigue
Bolted Joints Design
FEA in Structural, Thermal, and Fluid Dynamics
Mechanism
Research Interests
Drilling Technology
Hydraulics
Buckling
Welding & Fatigue