Yongchao Yang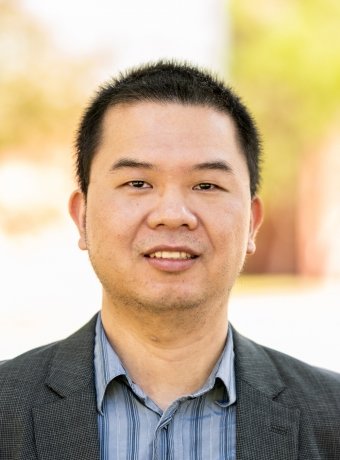 Assistant Professor, Mechanical Engineering-Engineering Mechanics
PhD, Structural Engineering, Rice University
BE, Structural Engineering, Harbin Institute of Technology
Biography
Dr. Yang's expertise is in structural dynamics, experimental mechanics, and system identification. His recent research aims to develop "physics-guided" machine learning methodology for high-fidelity modeling, identification, and characterization of complex structural and system behaviors. In particular, his latest projects focus on developing full-field, high-resolution sensing/imaging methods for detecting subtle structural and material defects through optical and acoustic (ultrasonic) tools, combining approaches from computer vision and machine (deep) learning. These commonly involve processing very large-scale images/videos and sensor array "big" data, e.g., millions of pixels from a digital camera where every pixel is considered as a "virtual" sensor. His work strives to advance applications for structural health monitoring, non-destructive evaluations, dynamical system identification and control in the broad areas of cyber-physical systems.
Before joining Michigan Tech, Dr. Yang was a staff scientist at Argonne National Laboratory (2018-2019), after a Director's Funded Postdoctoral Fellowship at Los Alamos National Laboratory (2015-2017). He obtained his PhD from Rice University in 2014 and bachelor's from Harbin Institute of Technology in 2010, both in structural engineering.
Links of Interest
Research Interests
Structural dynamics
System identification
Structural health monitoring
Non-destructive evaluation
High-resolution sensing/imaging
Machine learning
Computer vision
"Making physical sense of machine learning: full-field, high-resolution imaging of structural dynamics", Defense Advanced Research Projects Agency (DARPA), 2018-2020.
"Neuromorphic Event-Driven Dynamic Vision Sensing and Processing: Silicon Retina Imaging", Argonne National Lab Directed Research and Development, 2018.
"Low-cost High-resolution Sensing and Health Monitoring of Urban Infrastructure", Los Alamos Directed Research and Development, 2015 - 2017
Dr. Yang teaches on topics of statics, shock, and vibration.