Wayne W. Weaver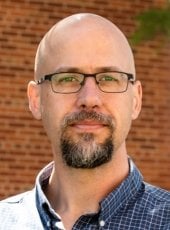 Professor, Mechanical Engineering-Engineering Mechanics
Associate Chair and Director of Graduate Studies, Mechanical Engineering-Engineering Mechanics
Affiliated Professor, Electrical and Computer Engineering
PhD, Electrical Engineering, University of Illinois at Urbana-Champaign
MS, Electrical Engineering, University of Illinois at Urbana-Champaign
BS, Electrical Engineering, GMI Engineering & Management Institute
BS, Mechanical Engineering, GMI Engineering & Management Institute
Biography
Wayne W. Weaver received a BS in Electrical Engineering and a BS in Mechanical Engineering from GMI Engineering & Management Institute in 1997, and an MS and PhD in Electrical Engineering from the University of Illinois at Urbana–Champaign. Weaver was a research and design engineer at Caterpillar Inc., in Peoria, Illinois, from 1997 to 2003. From 2006 to 2008, he also worked as a researcher at the US Army Corp of Engineers, Engineering Research and Development Center (ERDC), Construction Engineering Research Lab (CERL), in Champaign, Illinois, on distributed and renewable-energy technology research. Weaver is a registered professional engineer in Illinois. His research interests include power electronics, electric machine drives, electric and hybrid-electric vehicles, and non-linear and optimal control.
Links of Interest
Areas of Interest
Power electronics systems
Microgrids
Non-linear and game theoretic controls
Distributed energy resources
Electric drives and machinery
Trinklein, Eddy H., Parker, Gordon G., Robinett, Rush D., Weaver, Wayne W., McCoy, T., "Reduced Order Multi-Domain Modeling of Shipboard Systems for Exergy-Based Control Investigations," ASNE Naval Engineers Journal, Vol. 130, No. 3, Sep 2018, pp. 87-105.
Bunker, K. J., Cook, Michael D., Weaver, Wayne W., Parker, Gordon G., "Multidimensional Optimal Droop Control for Dc Microgrids in Military Applications," Applied Sciences, Special Issue DC & Hybrid Micro-Grids, Vol. 8, No. 10, Oct 2018, Article 1966, 14 pages. DOI:10.3390/app8101966
W.W. Weaver, R.D. Robinett, G.G. Parker, D.G. Wilson, "Distributed control and energy storage requirements of networked Dc microgrids" Control Engineering Practice, vol 44, pp 10-19, 2015
W.W. Weaver, R.D. Robinett, G.G. Parker, D.G. Wilson, "Energy storage requirements of dc microgrids with high penetration renewables under droop control," International Journal of Electrical Power & Energy Systems, vol 68, pp 203-209, 2015
A. Kantamneni, L.E. Brown, G. Parker, W.W. Weaver, "Survey of multi-agent systems for microgrid control", Engineering Applications of Artificial Intelligence, vol 45, pp 192-203, 2015
B. Banerjee, W.W. Weaver, "Generalized Geometric Control Manifolds of Power Converters in a DC Microgrid," IEEE Transactions on Energy Conversion, vol 29, pp 904-912, 2014
N. Ekneligoda, W.W. Weaver, "A Game Theoretic Bus Selection Method for Loads in Multi-Bus DC Power Systems," IEEE Transactions on Industrial Electronics, 2013 Read More
N. C. Ekneligoda and W. W. Weaver, "Game-theoretic communication structures in microgrids," IEEE Transactions on Power Delivery, vol. 27, no. 4, pp. 2334-2341, 2012.
W.W.Weaver, "Dynamic energy resource control of power electronics in local area power networks," IEEE Transactions on Power Electronics, vol. 26, no. 3, pp. 852-859, 2010.
A. Kwasinski,W.W.Weaver, P. L. Chapman, and P. T. Krein, "Telecommunications power plant damage assessment for hurricane Katrina; site survey and follow-up results," IEEE Systems Journal, vol. 3, no. 3, pp. 277-287, 2009.
W.W. Weaver and P. T. Krein, "Game-Theoretic Control of Small-Scale Power Systems," IEEE Transactions on Power Delivery, vol. 24, pp. 1560-1567, 2009
Dr. Weaver teaches on propulsion systems for hybrid electric vehicles and linear systems theory and design.