Radheshyam Tewari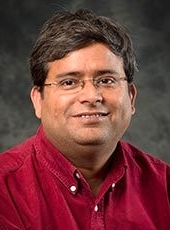 Associate Teaching Professor, Mechanical Engineering-Engineering Mechanics
Graduate Seminar Series Coordinator
Faculty Advisor, Innovative Global Solutions Enterprise
PhD, Michigan Technological University
MS, Michigan Technological University
BS, Maulana Azad National Institute of Technology, India
Biography
Radheshyam Tewari was a lecturer in the ME-EM department at Michigan Tech from 2014 to 2018 and is now an associate teaching professor. He earned his PhD and MS degrees in Mechanical Engineering from Michigan Tech. He completed his BS degree in Mechanical Engineering from Maulana Azad National Institute of Technology in India. Tewari came to Michigan Tech in 2005 after working for three years in the manufacturing, production, and total productive maintenance (TPM) areas at Bajaj Auto Limited in India. Tewari's research at Michigan Tech has been highly interdisciplinary. His extensive research experiences are a result of working on numerous projects in the areas of implantable medical devices, micro and nano biosensors, mechanical micromachining and microfabrication, semiconductor fabrication technologies, and micro and nano metrology and characterization tools. Broadly, his specialties are in process and product development for applications involving micro and nano systems.
Teaching Interests
Computer Aided Design/Manufacturing
Senior Capstone Design Projects
Product Realization
Dynamics
Manufacturing
Metrology
Production Planning
Quality Engineering
Design of Experiments
Mechanics of Materials
Nanotechnology
Micromanufacturing
Semiconductor Fabrication
Implantable Medical Devices
Areas of Expertise
Micromachining
Micromanufacturing
Semiconductor Fabrication Processes
Research Interests
Microsystems Development
Nanotechnology
Medical Devices
Additive Manufacturing
Engineering Education
Xie, H., Tewari, R., Fukushima, H., Narendra, J., Heldt, C., King, J., and Minerick, A.R., 2014, "Development of a 3D Graphene Electrode Dielectrophoretic Devicek," J. Vis. Exp., (88), e51696, doi:10.3791/51696.
Chang, J., Tewari, R., Choi, C., and Friedrich, C., 2013, A Hybrid Electrokinetic Pump for a Lab-on-a-chip Microfluidic Device, Poster presented at: Graduate Research Colloquium, Michigan Technological University, February, 2013, Houghton, MI
Shokuhfar, T., Daunais, T., Tewari, R., Zhong, X., Slough, W., Moser, T., Douglas, W., Blough, E., Kumar, A., Pandey, R., Bergstrom, P., Choi, C., Nalabothu, S., and Friedrich, C., 2011, MicroRNA Nanosensor System for Early Detection of Diseases in Humans, Poster presented at: Lab-on-a-Chip World Congress, September, 2011, San Francisco, CA, USA.
Tewari R., and Friedrich, C., 2011, "Patterning PLA Packaging Films for Implantable Medical Devices," Journal of Medical Devices, Vol. 5, No. 2, Article ID 027522, 1 page.
Tewari, R., Vanga, K.L., Knudsen, William, and Friedrich, C., 2010, Process Characterization: Reactive Ion Etching of Micro Hot-Embossed Poly (Lactic Acid) Films, Poster presented at: Biomedical Engineering Society (BMES) Annual Meeting, October, 2010, Austin, TX, USA.
Tewari R., and Friedrich, C., 2010, "Hot Embossing of Poly (Lactic Acid) Films for an Embedded Cochlear Implant Stiffener," Journal of Microsystem Technologies, Vol. 16, No. 8-9, pp. 1601-1607, doi:10.1007/s00542-010-1084-y.
Tewari, R., and Friedrich, C., 2009, "Force Characterization and Rigidity Analysis of a Monolithic Cochlear Prosthesis Actuator," J. Med. Devices, Vol. 3, Issue 2, 1 page, doi:10.1115/1.3147506.
Dr. Tewari teaches on topics of experimental design in engineering, production planning, additive manufacturing, and lean manufacturing.