Trisha Sain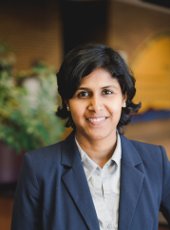 Assistant Professor, Mechanical Engineering-Engineering Mechanics
PhD, Civil Engineering, Indian Institute of Science, India (2008)
MSc, Civil Engineering, Indian Institute of Science, India (2003)
BE, Civil Engineering, Jadavpur University, India (2001)
Biography
Dr. Trisha Sain joined the Mechanical Engineering - Engineering Mechanics department at Michigan Tech August 2016 as an Assistant Professor. Prior to joining Michigan Tech she was an Assistant Professor in the Department of Mechanical Engineering, North Carolina A&T State University, Sep 2013 - Aug 2016. She has Post-doctoral experience at University of Michigan, Ann Arbor, 2011-2013, Mechanical Engineering, Aerospace Engineering (Joint Appointment) and Post-doctoral experience at Technical University of Catalunya, Barcelona, Spain, 2009-2011.
Her research lies in Computational Solid Mechanics, Nonlinear behavior of materials, Mechanics of soft polymers:
Biomimetic Material Design-new domain in multifunctional composite material
Developing a predictive framework and design methodology for optimizing composite's performance in multiple aspects with the influence of biological design
Computational modeling of tough hydrogels as tissue mimicking materials
Constitutive modeling of hydrogels, studies on improved toughness and self healing capacity
Computational modeling of curing kinetics and curing induced damage in thermosets under large deformation
Curing of thermosets is a complex process involving the transition from a fluid into a viscoelastic solid. The phase transition involves volume shrinkage along with an
increase in stiffness. The volume shrinkage can generate significant residual stress in the material leading to severe damage of the cured material. Computational models
are useful for prediction of such material response under variable curing cycle.
Links of Interest
Research Interests
Constitutive modeling of materials, focusing on polymers, polymer-composites, coupled physics behavior
Fracture, damage and impact behavior on materials
Analysis, design and testing of novel multifunctional lightweight polymer composite materials
High rate deformation in polymers
Predictive modeling of fracture in brittle materials
Biomechanics of artificial tissue and soft interfaces
Recent Publications
Imam, Muhammed R., Sain, Trisha, "Effects of Cohesive Interfaces and Polymer Viscoelasticity on Improving Mechanical Properties in an Architectured Composite," International Journal of Solids and Structures, Vol. 159, Mar 2019, pp. 289 – 300. DOI:10.1016/j.ijsolstr.2018.10.008
S Haldar, T Sain, S Ghosh, "A Novel High Symmetry Interlocking Micro-architecture Design for Polymer Composites with Improved Mechanical Properties," International Journal of Solids and Structures, Oct 2017, Vol 124, pp. 161-175. doi.org/10.1016/j.ijsolstr.2017.06.030 Read More
B Yeom, T Sain, N Lacevic, D Bukharina, SH Cha, AM Waas, EM Arruda, "Abiotic Tooth Enamel," Nature 543 (7643), pp. 95-98, online March 2017. doi:10.1038/nature21410 Read More
T Sain, J Meaud, B Yeom, AM Waas, EM Arruda, "Rate Dependent Finite Strain Constitutive Modeling of Polyurethane and Polyurethane–clay Nanocomposites," International Journal of Solids and Structures, Feb 2015, Vol. 54, pp. 147-155. doi.org/10.1016/j.ijsolstr.2014.10.027 Read More
J Meaud, T Sain, B Yeom, SJ Park, AB Shoultz, G Hulbert, ZD Ma, "Simultaneously High Stiffness and Damping in Nanoengineered Microtruss Composites," ACS Nano, Mar 2014, Vol. 8, No. 4, pp. 3468-3475. DOI: 10.1021/nn500284m Read More
T Sain, J Meaud, G Hulbert, EM Arruda, AM Waas, "Simultaneously High Stiffness and Damping in a Class of Wavy Layered Composites," Composite Structures, Jul 2013, Vol. 101, pp. 104-110. doi.org/10.1016/j.compstruct.2013.01.024 Read More
J Meaud, T Sain, GM Hulbert, AM Waas, "Analysis and optimal design of layered composites with high stiffness and high damping," International Journal of Solids and Structures, May 2013, Vol. 50, No. 9, pp. 1342-1353. doi.org/10.1016/j.ijsolstr.2013.01.014 Read More
R Weyler, J Oliver, T Sain, JC Cante, "On the Contact Domain Method: A Comparison of Penalty and Lagrange Multiplier Implementations," Computer Methods in Applied Mechanics and Engineering, Jan 2012, Vol. 205, pp. 68-82. DOI: 10.1016/j.cma.2011.01.011 Read More
T Sain, R Narasimhan, "Constitutive Modeling of Ice in the High Strain Rate Regime," International Journal of Solids and Structures, Vol. 48, No. 5, pp. 817-827, March 2011. doi.org/10.1016/j.ijsolstr.2010.11.016 Read More
T Sain, JMC Kishen, "Probabilistic Assessment of Fatigue Crack Growth in Concrete," International Journal of Fatigue, Dec 2008, Vol. 30, No. 12, pp. 2156-2164. doi.org/10.1016/j.ijfatigue.2008.05.024 Read More
T Sain, JMC Kishen, "Damage Indices for Failure of Concrete Beams under Fatigue," Engineering Fracture Mechanics, Sep 2008, Vol. 75, No. 14, pp.4036-4051. doi.org/10.1016/j.engfracmech.2008.04.007 Read More
T Sain, JMC Kishen, "Fracture Stability and Residual Strength Assessment of Reinforced Concrete Beams," Materials and Structures, Apr 2008, Vol. 41, No. 8, pp. 1451-1463. DOI 10.1617/s11527-007-9342-x Read More
T Sain, JMC Kishen, "Prediction of Fatigue Strength in Plain and Reinforced Concrete Beams," ACI Structural Journal, Oct 2007, Vol. 104, No. 5, pp. 621-628. Read More
T Sain, JMC Kishen, "Energy-based Equivalence between Damage and Fracture in Concrete under Fatigue," Engineering Fracture Mechanics, Oct 2007, Vol. 74, No. 15, pp. 2320-2333. doi.org/10.1016/j.engfracmech.2006.11.014 Read More