Vinh Nguyen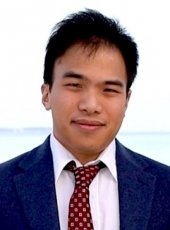 Assistant Professor, Mechanical Engineering-Engineering Mechanics
PhD, Mechanical Engineering, Georgia Institute of Technology
MS, Electrical and Computer Engineering, Georgia Tech
MS, Mechanical Engineering, Georgia Tech
BS, Electrical Engineering, BS, Mechanical Engineering, Rensselaer Polytechnic Institute
Biography
Dr. Nguyen started his appointment as an Assistant Professor at Michigan Technological University in 2022, where his research focuses on advanced manufacturing through Industry 4.0, human-robot-machine interaction, and physics-based/data-driven modeling. Dr. Nguyen has developed solutions for a variety of production processes including machining, additive manufacturing, metal forming, and robotic assembly to promote smart and sustainable manufacturing. Dr. Nguyen also conducts research in general industrial automation including autonomous vehicles and industrial robotics.
Prior to his appointment at Michigan Technological University, Vinh was a National Research Council Postdoctoral Fellow at the National Institute of Standards and Technology from 2020 to 2022. He received his PhD in Mechanical Engineering and his MS in Mechanical Engineering and Electrical & Computer Engineering at the Georgia Institute of Technology in addition to receiving his BS in Mechanical Engineering and Electrical Engineering from Rensselaer Polytechnic Institute
PhD Funded Student Position Available in Automation in Smart Manufacturing
Dr. Vinh Nguyen is seeking applications for 2 PhD students in automation for smart manufacturing. The students will receive full tuition coverage and stipend support. Students will be investigating technologies to facilitate human-automation systems in the context of Industry 4.0 and develop machine learning solutions to address real-world manufacturing problems. Students will have hands-on experience working on a variety of manufacturing processes including robotic assembly, machining, and additive manufacturing. Furthermore, students will also have the opportunity to work with advanced robotic tools including AR/VR and motion capture systems.
Links of Interest
Research Interests
Advanced manufacturing
Industry 4.0
Human-robot-machine interaction
Physics-based/data-driven modeling
Manufacturing process monitoring
Industrial automation