Aneet Narendranath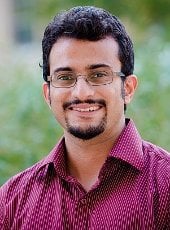 Associate Teaching Professor, Mechanical Engineering-Engineering Mechanics
PhD, Mechanical Engineering-Engineering Mechanics, Michigan Technological University
MS, Mechanical Engineering, Michigan Technological University
BE, Mechanical Engineering, Visvesvaraya Technological University
Biography
Aneet Narendranath is an associate teaching professor in Mechanical Engineering-Engineering Mechanics at Michigan Technological University. He received his Master's degree and PhD in Mechanical Engineering-Engineering Mechanics at Michigan Technological University in 2009 and 2013 respectively. His doctoral dissertation was titled "Influence of Mechanical and Thermal Boundary Conditions on Stabilizing/Destabilizing Mechanisms in Evaporating Liquid Films."
Dr. Narendranath's research focus is in the area of analytical and numerical methods for the creation of predictive design tools for energy/thermal/fluid science systems. His pedagogic interests are in energy/thermal/fluid sciences, differential equations. He occasionally uses the flipped classroom approach in addition to applying cooperative learning/teaching methods. On this profile page you will find some materials which are working manuscripts on which publications of higher rigor will be based. It is to give the reader an idea of the latest research he is involved with and is currently performing.
Links of Interest
Pedagogic Interests
Classical Mechanics
Numerical methods for differential equations
Symbolic solution packages
Research Interests
Numerical solutions and applications to engineering of non-linear partial differential equations
Low Reynolds Number fluid physics
Peer-reviewed Publications in diverse fields
Publications related to computational linguistics:

A.D. Narendranath, J.S, Allen, "Automated Text Analysis of Reflective Essays to Quantify the Impact of the Modification of a Mechanical Engineering Course", Journal of STEM education: Innovations and Research (under final-stage review)

A. D. Narendranath, Z. Thelander, S. H. Leak, "Quantitative identification of metacognition in reflective essays authored by undergraduate students in an engineering mechanics course.", ASEE Annual Conference 2023.


Publications related to machine learning and data science in STEM education

R.Tewari, A.D. Narendranath, J.E. Johnson, "Quantification of problem-complexity and problem-solving skills with directed networks in a sophomore course in Mechanics of Materials'', ASEE 2023 (accepted by ASEE Education Research Methods division).
Narendranath, A.D., 2020, "Work-in-progress: Introducing Artificial Neural Networks in an introductory Thermodynamics", IEEE Frontiers in education
Narendranath, A.D., 2020, "Work in Progress: Collect, Carve, Classify", ASEE Conference 2020
Narendranath, A.D., 2018, "Raspberry Pi based learning center usage tracking system for optimal resource allocation", IEEE Frontiers in Education
Publications related to innovative examples in classical courses in STEM education

Narendranath, A.D., "Introducing the Galerkin method of weighted residuals into an undergraduate elective course in finite element methods", ASEE Conference 2017, Columbus, OH Read More
Narendranath A.D., Deshpande P.P., Kolati M., Manjunath D.S., "Using Finite Element Methods to Calculate the Deflection of an Orifice Plate Subject to Uniform Pressure Distribution", ASEE Conference 2016, New Orleans, LA Read More
Publications on dynamics of liquid films in microgravity

Narendranath, A.D., 2017, "Pacification of thermocapillary destabilization of a liquid film in zero gravity through the use of an isothermal porous substrate", Journal of Gravitational and Space research Read More
Narendranath, A.D., Hermanson, J.C., Struthers, A., Kolkka, R., Allen, J.S., 2014, "The Effect of Gravity on the Stability of an Evaporating Liquid Film," Journal of Microgravity Science and Technology, Vol. 26, No. 3, pp. 189-199, doi:10.1007/s12217-014-9395-8
Narendranath, A.D., Kimball, J., Hermanson, J.C., and Allen, J.S., 2012, "Manifestation of Instability Mechanisms in Liquid Films," Journal of Heat Transfer, Vol. 134, Paper No. 080908, 1 page, doi:10.1115/1.4006722
Publications on wave energy and wave energy conversion devices

Narendranath, A.D., 2018, "Recurrence quantification analysis: Nonlinear wave dynamics in the Kuramoto-Sivashinsky equation, Response of the Tri-pendulum and FlanSea WEC and Extreme Events", IEEE Oceans Read More
NSF #2203025 – Collaborative Research: ISS: Revealing interfacial stability, thermal transport and transient effects in film evaporation in microgravity, 2022 – 2026.
ASEE Mini-grant #2021-01920-017: Collaborative Proposal: Genre Analysis of Student Reflective Essays to Establish a Baseline for Rhetorical Moves and Meta-Discourse Markers Aligned with metacognition, 2022–2023.
[Invited] Narendranath,A.D., July 2023, Transforming Engineering Education. AI in Education 2023 Conference.
Narendranath, A.D, October 2021, "Building a Suite of Learning Analytics Tools for STEM Education", Wolfram Technology Conference 2021 Video
Narendranath, A.D, May 2020, "Expediting final exam feedback to students (n=150) by dynamic visualization using Python Plotly", (Webinar on Online education VII: Tech Forward to Better)
Narendranath, A.D., May 2020, "Stratification of grades using K-Means clustering rather than weighted averages", UP-TCL 2020 (talk proposal accepted. Conference canceled due to COVID19 pandemic.)
[Invited] Narendranath, A.D., November 2019, "Heuristic multilayer perceptron as a thermodynamic approximator and event or process classifier", Invited Talk, Cooper Standard
Narendranath, A.D., October 2019, "Approximating Steam Properties: Machine Learning on IAPWS Standard" Wolfram Technology conference 2019, Champaign, IL Video
Narendranath, A.D., June 2017, "Nonlinear dynamics of liquid films: visualization through recurrence plots and stabilization strategy", Second IMA (Inst. of Math. and App.) conference on nonlinearity and coherent structures, University of East Anglia, Norwich, UK, June 19-21
Narendranath, A.D., "October 2016, Dynamics of Thin Liquid Films in Zero Gravity: Stabilization and Destabilization", Wolfram Technology conference 2016, Champaign, IL Video
Projects in pedagogy and STEM assessment
Computational linguistics to extract markers of metacognition, entrepreneurial mindset, and achievement of threshold skills by students.
Sensitivity analysis for the determination of error modes.
Supervised machine learning to extract algorithmic thinking attributes from FEA simulations
Multimodal assessment techniques: Impact of dynamic visualization and dimensionality reduction
Time series or Markov models as learning curves
Projects in applied mathematics and simulation of dynamical systems
Surrogate modeling of wave energy conversion devices
Passive control of fluid film dynamics in microgravity
Nominations and Awards for Teaching and Teaching Innovations
Wolfram innovator nomination: 2017
MEEM teacher of the year Runner-up: 2017-18, 2018-19, 2019-2020
Dean's teaching showcase 2020
Statics, thermodynamics, heat transfer, mechanics of materials, MEP-II (fluid dynamics measurements), MEP-III (model based design), introduction to finite element method, advising for senior capstone design, computational fluids engineering.