Jaclyn Johnson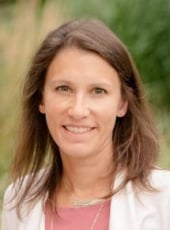 Associate Teaching Professor, Mechanical Engineering-Engineering Mechanics
Research Engineer
PhD, Mechanical Engineering, Michigan Technological University
MS, Mechanical Engineering-Engineering Mechanics, Michigan Technological University
BA, Physics, Illinois Wesleyan University
Biography
Dr. Jaclyn Johnson was a lecturer in the ME-EM department at Michigan Tech from 2014 to 2018 and is now an associate teaching professor. She holds a BA in Physics from Illinois Wesleyan University and a MS and PhD in Mechanical Engineering from Michigan Tech University. After graduating from Michigan Tech in 2011, she spent the next three years conducting research as a Research Engineer in the ME-EM department at Michigan Tech on diesel spray combustion characterization using optical diagnostics with an optically accessible constant volume combustion vessel. Dr. Johnson has research interests in diesel spray and combustion, spark ignition characterization, and thermophysical property modeling. Her specialties include optical and laser based diagnostics, image processing methodologies, and diesel spray characterization and analysis.
Teaching Interests
Energy ThermoFluids Courses - Fluid Mechanics, Heat Transfer, Thermodynamics, Internal Combustion Engines
Mechanics Courses - Statics, Mechanics of Materials
Research Interests
Fundamentals of Diesel Spray and Combustion, Spark Ignition
Spray Combustion
Optical and Laser Diagnostics
Internal Combustion Engines
Alternative Fuels
Thermophysical Properties; Spray & Combustion Modeling
Ge, H., Johnson, Jaclyn E., Krishnamoorthy, Hari, Lee, Seong Y., Naber, Jeffrey D., Robarge, N., Kurtz, E., "A Comparison of Computational Fluid Dynamics Predicted Initial Liquid Penetration using Rate of Injection Profiles Generated using Two Different Measurement Techniques," International Journal of Engine Research, Vol. 20, No. 2, Feb 2019, pp. 226-235. DOI:10.1177/1468087417746475
Johnson, Jaclyn, Ge, Hai-Wen, Naber, Jeffrey D., Lee, Seong-Young, Kurtz, Eric, and Nan R., 2013, "Investigation of Key Mechanisms for Liquid Length Fluctuations in Transient Vaporizing Diesel Sprays," SAE International Journal of Engines, Vol. 6, No. 2, pp. 1202-1212.
Meijer, Maarten, Somers, L.M.T., Johnson, Jaclyn, Naber, Jeffrey D., Lee, Seong-Young, Malbec, L.M., Bruneaux, Gilles, Pickett, Lyle, Bardi, M., Payri, Raul, and Bazyn, Tim, 2012, "Engine Combustion Network (ECN): Characterization and Comparison of Boundary Conditions for Different Combustion Vessels," Atomization and Sprays, Vol. 22, No. 9, pp. 777-806.
Johnson, J.E., Yoon, S.H., Lee, S.-Y., Naber, J.D., 2012, "Quantifying Statistical Measures of Diesel Spray Soot Characteristics using Laser-Induced Incandescence," ICLASS 2012, 12th Triennial International Conference on Liquid Atomization and Spray Systems, Paper No. 1341.
Johnson, J.E., Naber, J.D., Lee, S-.Y., Kurtz, E., Robarge, N., Ge, H.-W., 2012, "Investigation of Diesel Liquid Spray Penetration Fluctuations Under Vaporizing Conditions," SAE Paper No. 2012-01-0455.
Johnson, Jaclyn, Naber, Jeffrey D., and Lee, Seong-Young, 2012, "Characterizing Diesel Fuel Spray Cone Angle from Back-Scattered Imaging by Fitting Gaussian Profiles to Radial Spray Intensity Distributions," Journal of Engineering for Gas Turbines and Power, Vol. 134, No. 6, Article ID 062802, 8 pages.
Johnson, J.E., Worm, J.J., Miers, S.A., Naber, J.D., 2012, "Handbook of Bioenergy Crop Plants: Section 1 Chapter 10: Biofuel Use from Bioenergy Crops: Internal Combustion Engines in Transportation," pp. 217-237. (Shonnard, D.R., Joshi, S., & Kole, C., Eds.), CRC Press: Taylor and Francis.
Nesbitt, J.E., Johnson, S.E., Pickett, L., Siebers, D., Lee, S.-Y., Naber, J.D., 2011, "Minor Species Production from Lean Premixed Combustion and their Impact on Autoignition of Diesel Surrogates," Energy and Fuels, Vol. 25 (3), pp. 926-936.
Nesbitt, J.E., Lee, S.-Y., Naber, J.D., Arora, R., 2010, "An Optical Study of Spark Ignition and Flame Kernel Development Near the Lean Limit at Elevated Pressure," Proceedings of the ASME 2010 Internal Combustion Engine Division Fall Technical Conference, San Antonio, TX, ICEF2010-35136.