Gopal Jayaraman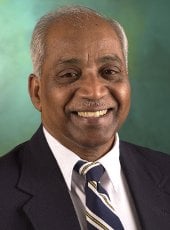 Professor Emeritus, Mechanical Engineering-Engineering Mechanics
Biography
Jayaraman's on-going research projects are in the area of biomechanics and solid mechanics. In the area of biomechanics they focus on injury mechanisms in human joints and organs due to impact and fatigue and prevention of injuries by prophylactic gears and braces. In the area of solid mechanics they focus on structural failure and material failure due to buckling, impact and fatigue.
Links of Interest
Areas of Expertise
Biomechanics
Orthopaedic Mechanics
Sports Safety
Research Interests
Biomechanics
Solid Mechanics
Jayaraman, Gopal, Struthers, A., 2010, "Elastic Stability of Columns on Partial Elastic Foundations Under Subtangential Loading," Journal of Sound and Vibration, Vol. 329, Issue 18, pp. 3856-3865.
Jayaraman, Gopal, Struthers, A., 2005, "Divergence and Flutter Instability of Elastic Specially Orthotropic Plates Subject to Follower Forces," Journal of Sound and Vibration, Vol. 281, No. 1-2, pp. 357-373.
Jayaraman, Gopal, Haut, R.C., Sinnott, M.T., Smith, E.E., Meyer, E.G., 2004, "The Effect of Axial Load in the Tibia on the Response of the 90° Flexed Knee to Blunt Impacts With a Deformable Interface," Stapp Car Crash Journal, Vol. 48, pp. 1-20.
Jayaraman, Gopal, Schuster P.J., Chore C.C., Prasad P., 2004, "Development and Validation of the Finite element Model for the Human Lower Limb of Pedestrians," Stapp Car Crash Journal , Vol. 44, pp. 315-334.
Jayaraman, Gopal, Chua, C.P., Edmunds, J.L., Girod, D.A., Toby, E.B., Bowers, K.W., 2000, "Osteocutaneous Radial Forearm Free Flaps," Journal of Bone and Joint Surgery, Vol. 82-A, No. 5, pp. 694-704.
E. Bruce Toby, James Rotramel, Gopal Jayaraman, Allen Struthers: Changes in the Stress Relaxation Properties of Peripheral Nerves After Transection. The Journal of Hand Surgery, Vol. 24A, No. 4, pp
Gopal Jayaraman, Aniruddha A. Nazre, John B. Redford, and Valerie McCann: A Computerized Technique for Analysis of Lateral Bending Behavior of the Normal and Impaired Lumbar Spine. Spine, Vol. 19, No. 7, pp. 824-832, 1994.
Butler, T.E., Asher, M.A., Jayaraman, G., Nunnely, P.D., and Robinson, R.G.: Strength and Stiffness of Thoracic Implant Anchors in Osteoporotic Spines. Spine, Vol. 19, pp. 1956-1962, 1994.