Harold A. Evensen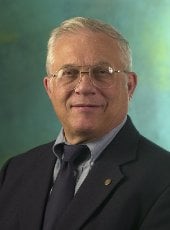 Professor Emeritus, Mechanical Engineering—Engineering Mechanics
Biography
Evensen teaches graduate and professional courses in dynamic measurements; signal
processing; industrial noise control; and vehicle noise, vibration, and harshness (NVH). He consults in industrial noise control and vibration measurements with the American machine tool industry and is experienced in dynamic measurements applied to noise and vibration problems in machines and structures. Current interests include analysis of vibrational energy flow through structures, incorporating laser Doppler vibration measurements.
Areas of Expertise
Noise Control
Vibrations
Signal Analysis
Research Interests
Analysis of vibrational energy flow through structures
Incorporating laser Doppler vibration measurements
Liu, Qunli and Subhash, Ghatu, and Evensen, Harold A. "Behavior of a Novel Iterative Deconvolution Algorithm for System Identification," Journal of Vibration and Control, II: 985-1003, 2005.
Spisak, M. and Evensen, H. A., "Estimating Vibrational Energy Flow in Plates using an Autoregressive Technique," Proceedings, 17th Annual Modal Analysis Conference, Kissimmee, Florida, Society for Experimental Mechanics, Bethel, Connecticut, February 1999.
Welsh, P. and Evensen, H. A., "Vibrational and Sound Radiation Properties of a Double-Layered Diesel Engine Gear Cover;" Paper 99NV-95 SAE 1999 Noise and Vibration Conference, Traverse City, Michigan, May 1999.
Koss, L. L. and Evensen, H. A., "Structural Intensity for Complex Bending, Torsion and Warping in an Infinite Beam," Fourth International Congress on Intensity Techniques: Structural Intensity and Vibrational Energy Flow, CETIM, Paris, August 1993.