Xintan Chang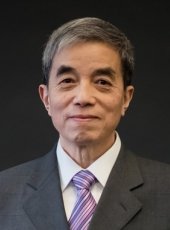 MS Mining Engineering 1983
PhD Engineering Mechanics 1988
Xintan Chang attended Xi'an Mining Institute (XMI), earning his BS degree in Mining Engineering in 1969. Xintan joined Michigan Tech in 1981 as a visiting scholar in the Mining Department, and changed his status to graduate student afterwards. He earned his MSc degree in Mining Engineering from the Mining Department in 1983, and his PhD in Engineering Mechanics from the Mechanical Engineering-Engineering Mechanics in 1988, both from Michigan Tech.
After graduation from XMI, Xintan began his career in Pucheng, Shaanxi Province, China, in 1969 at Baidi Coal Mine as a Miner, Mining Technician, and Mine Ventilation Engineer. He experienced the hardships and dangers in Chinese coal mines for 11 years, during which time several fellow miners lost their lives due to the hazardous conditions.
In 1980, Xintan passed the national exam conducted by China Ministry of Education and was selected as a Chinese Government supported scholar to come to the USA in 1981. While with Michigan Tech, he developed the Transient State Mine Ventilation Simulation Program MFIRE for US Bureau of Mines as the coauthor and assistant of the late Professor Rudolph (Rudy) E. Grueur. MFIRE has gained widespread recognition and is still the most popular mine fire ventilation simulation software in the world.
After earning his PhD from Michigan Tech, Xintan returned to China in 1988 to join the Xi'an Mining Institute as an Assistant Professor, later becoming an Associate Professor in 1990, and full Professor in 1993, with research interests focusing on mine ventilation, mine/civil fire simulation and fire-fighting, public safety, and safety management. He obtained a National Reward due to his representative achievements in underground civil fire ventilation research and simulation in the 1990s.
Xintan held the post of Vice President of Xi'an Mining Institute in 1995. He was in charge of graduate programs when XMI became authorized to offer PhD degrees for the first time in 1998. Xi'an Mining Institute was renamed to Xi'an Institute of Science and Technology (XIST) in 1999. Xintan became the President of Xi'an Institute of Science and Technology in 2000, then the President of Xi'an University of Science and Technology (XUST, which was renamed from XIST) in 2003. Under his leadership, the university built a new campus of 70 hectares, and enrollment increased from 5,000 in 1999 to 21,000 in 2005, with 3,000 graduate students. The overall standard of the university also rose amongst the top 200 universities in China. Xintan stepped aside as President in 2006, and retired in 2016.
Xintan has been a committee member of the China Coal Industry Society, an executive committee member of the China Coal Academy, the chair of the Consultative Committee in Public Safety of Shaanxi Province, and group leader of the High Education Assessment Committee of Shaanxi Province.
Xintan resides in Xi'an, Shaanxi province, China, with his wife of 45 years YunZhi, a retired B-scan ultrasonography doctor. Xintan and Yunzhi are the proud parents of two sons, Zheng and Liang, both graduates in Mechanical Engineering from Michigan Tech. Xintan and Yunzhi are the proud grandparents of two grandsons and one granddaughter. In his spare time, Xintan enjoys traveling and unique culinary experiences.