William F. Hartwick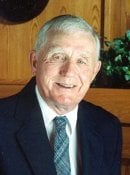 BS Mechanical Engineering 1948
Bill Hartwick graduated with honor in 1948 with a Bachelor of Science degree in Mechanical Engineering. While a student at Michigan Tech he was elected a member of Tau Beta Pi and played varsity football. After completing the required thesis, Bill received a professional degree of Mechanical Engineer from Tech in 1955. His entire professional career was devoted to the technology of heavy, continuous duty, reciprocating gas compressors.
Bill began his career at Cooper Industries where his work included research and development, design, application and performance analysis. In 1978 he joined Anglo Compression as Manager of Consulting Services. He pioneered the development of on-site computer predicted compressor performance that provides for fuel efficient operation of gas engine driven compressors.
Bill became an independent consultant in 1988 where he provided a variety of compressor/compression related services for a number of large corporations and other clients until his retirement in 1995. Bill holds two U.S. patents, has written two journal publications, four ASME papers, was an ASME Performance Test Code Committee chair and was elected to the grade of Life Fellow of ASME in 1997. He is a registered Professional Engineer in Ohio and a member of Michigan Tech's Presidents Club.
From 1999 Induction to the Department of Mechanical Engineering-Engineering Mechanics Academy