Vijay K. Sazawal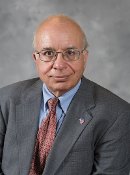 PhD Mechanical Engineering 1975
After completing his doctoral degree in structural mechanics at Michigan Tech, Vijay K. Sazawal (PhD '75) joined Westinghouse Electric Corporation in the Advanced Reactors Division as part of the design and technology team working on the Clinch River Breeder Reactor Project. His tenure at Westinghouse lasted twenty years during which time he rose through successive management positions with responsibility for fast reactors, advanced terrestrial and space reactors, nuclear defense programs, and US government programs to promote safety upgrades of Russian-built reactors in Central and Eastern Europe.
In 1995, he took a job with COGEMA Inc. as VP, Engineering and Technology, and then in 2002 went to work for US Enrichment Company Inc. (USEC) as Director, Government Programs, his current position. USEC, a leading supplier of enriched uranium fuel for commercial nuclear power plants worldwide, was a federal agency but is now privatized. Vijay coordinates and pursues advocacy for existing and new business initiatives. He is a member of the management team involved in the American Centrifuge Project, the leading initiative by USEC Inc. to build a state-of-the-art centrifuge nuclear enrichment plant based on American technology. His advice had been sought by the US State Department and US Department of Energy on nuclear export trade to India and other major commercial nuclear markets in the world. In 2011, he was appointed to the Civil Nuclear Trade Advisory Committee (CINTAC) to advise the US Commerce Department on trade issues facing the industry.
Vijay is a founding member of the Indo-American Kashmir Forum (IAKF) and its past president. He is the Overseas Coordinator of three Kashmiri expatriate organizations: the US-based IAKF, the Indo-Canadian Kashmir Forum (ICKF) based in Ottawa, and the Indo-European Kashmir Forum (IEKF) based in London and Geneva. These nongovernmental organizations participate in the United Nations Commission on Human Rights (UNCHR) Working Group on Minorities. He frequently speaks on human rights issues in Geneva. He works closely with the Kashmiri Pandit community in Jammu and Kashmir and has addressed their plight with the US Administration, the US Congress, and the media.
Vijay and his wife, Meenakshi, have three children and three grandchildren.
From the Michigan Tech Mechanical Engineering-Engineering Mechanics Annual Report for 2012-13