Tom B. Moore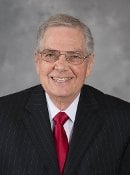 BS Mechanical Engineering 1966
Tom B. Moore earned his BS degree in Mechanical Engineering from Michigan Tech in 1966. After graduation he went to work for Standard Oil of CA, now Chevron, as a plant engineer in Richmond, CA. For two years he worked on major plant expansions. Then he and a fraternity brother took off a year and traveled 21 countries. He returned to Denver to work for Behrent Engineering for one year and then he then went to work for Stearn Rogers Inc, an international design/construction firm, now part of Raytheon. He worked on special projects that included plutonium waste sites, natural gas facilities, central heating plants, etc. He was there for about eight years.
He joined the consulting firm of RMH Group Inc in 1978 as manager of the mechanical department and has been with them for 35 years. Within nine years Tom became a major owner and president of RMH and was president until 2006. While he was president he diversified RMH to become a leader in sustainable energy design and net zero or energy neutral design, renewable energy use in design, including solar panels, evaporative cooling, etc. In addition he worked on many military facilities. While president he grew the business from 40 employees to 120 and doubled the profit. They quickly gained recognition locally and nationally for their exceptional designs in energy efficient buildings. The RMH Group has won numerous awards in design, energy, lighting and environmental categories and has been included in Engineering News-Record's list of top 500 design firms in the U.S.
Tom actually began his mechanical engineering career at an early age when he was repairing farm machinery and building hot rods in the small farming community of Marinette, Wisconsin, where he grew up. That interest led him to pursue automotive engineering as a career. He was greatly influenced by his parents to do one's best, to work hard, and to always respect others.
Tom was a board member of the American Consulting Engineers Council of Colorado, an organization representing 250 Colorado consulting firms. He was elected president of the Council in 2000. He worked on a campaign in 1999 to raise funds for a new Architecture Building at Colorado University. Now retired, he is still a mentor to young engineers, a lifelong car enthusiast, and an avid outdoors person. He also supports the Jeffco Action Center (Jefferson County, CO): a non-profit agency providing basic human services to people in financial need. He has written numerous articles for engineering and business publications and was professionally registered in ten states.
He married his wife Wendy on October 9, 1970. They have three grown children, Erin, Rani, and Justin and numerous grandchildren.
Excerpted, in part, from the Michigan Tech Mechanical Engineering-Engineering Mechanics Annual Report for 2012-13