Timothy P. Coffield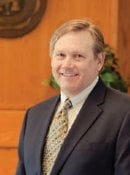 BS Mechanical Engineering 1984
Timothy P. Coffield earned his BS degree in Mechanical Engineering, with high honors, from Michigan Technological University in 1984. He has also completed a business degree from University of Colorado. After graduating from Michigan Tech, Tim went to work as a research engineer for five years at IBM Research in Rochester, MN. Following that he was the principal engineer & business group manager at Cacade Engineering for seven years. In 1998, he founded Dahti Technologies out of his house, which established itself as a leader in the seating industry. Dahti Seating has worked mostly in the office-chair environment, but is developing in recreation, automotive, juvenile, marine, stadium, mass transit and other applications. In 2006 Dahti was purchased by Illinois Tool Works Inc. Tim is currently Vice President for Product Development at Illinois Tool Works Inc. in Rockford, MI.
He has applied his innovations across a wide range of industries including automotive, office furniture, marine, tractor, aerospace, bicycle, orthotics, and health care industries. In 2008, he invented a unique orienting process allowing for the use of elastomer in demanding applications.
He is inventor or co-inventor of over 80 US & foreign patents. His inventions are primarily in the area of manufacturing processes, plastics, and design innovations. In 1987, while working as IBM Research & Development engineer he co-invented IBM's advanced suspension system which became an industry standard disk drive design. In 1992, he invented the elastomeric encapsulation manufacturing process for Herman Miller's famous Aeron Chair. He also co-developed an award winning bicycle seat that was highlighted in a Time Magazine annual design issue. Tim focuses on innovation and creativity by leveraging atavistic knowledge, which he accomplishes by pursuing solutions for their effectiveness regardless of current conventions and/or technology; especially if they've never been done before. He is the creator of the MAP™ innovation process (a practical innovation approach that has produced a 15 year track record of innovative product commercialization) and often speaks on the innovation process.
Tim is a member of the Product Development and Management Association and the Phi Tau Sigma Honor Society, Grand Rapids Inventor Network. He has authored technical papers on seating and ergonomics. He has been a featured speaker and panelist in a number of technology, industry, and academic forums.
While a student at Michigan Tech, Tim was a ski coach for the Ski Club.
Tim resides in Grand Rapids, MI.