Thomas G. McKie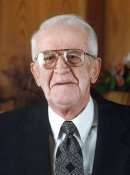 BS Mechanical Engineering 1947
Tom McKie began his mechanical engineering education in 1941, enlisted in the Navy Air Corps in World War II, and returned to Michigan Tech after completing his military service in 1945 to earn a Bachelor of Science degree in Mechanical Engineering. After graduation in 1947 he joined the West Virginia Pulp and Paper Company.
In 1953 he joined Beloit Corporation in their engineering division and enjoyed a thirty-three year career with the company. Tom held many positions at Beloit Corporation including Chief Engineer, Vice President of Engineering, General Sales Manager, General Manager of Paper Machinery Division (PMD), and Group Vice President of PMD and Foundry. In 1984 he was named President and Chief Operating Officer (COO), a position he held until retirement in 1986.
Tom holds ten patents related to the design of paper machines, is a registered Professional Engineer in the state of Wisconsin, and has conducted business in nineteen countries. Tom is a past member of the Michigan Tech Forest Research Board; former board chairman of Beloit Sorel Canada, Beloit Italia, Beloit Brazil, Beloit Zurich, and Beloit Wamsley; and a former board member of the Sandusky Foundry (Ohio). He is currently a Golden M member of the Michigan Tech Alumni Association, a member of the Technical Association of the Pulp and Paper Industry, a member of the Canadian Pulp and Paper Association, and is active in his local church.
From 1998 Induction to the Department of Mechanical Engineering-Engineering Mechanics Academy