Theodore R. Edwards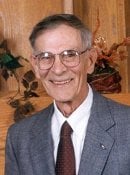 BS Mechanical Engineering 1950
Ted Edwards earned a B.S. in Mechanical Engineering from Michigan Tech with honor in 1950. Prior to attending Tech he was a corporal in the U.S. Army, stationed in Europe, during World War II.
He began his career in the pulp and paper industry with Marathon Corporation as a Management Trainee. In 1957, Marathon was acquired by American Can Company and Ted assumed various positions in management for the company. In 1980, he became Vice President of Productivity. In 1982, American Can's paper-based businesses were purchased by James River Corporation and Ted became Vice President of Manufacturing Productivity. His final positions prior to retirement with James River included Vice President of Manufacturing Management, Vice President of Manufacturing, Flexible Packaging Division and Vice President of Southern Operations. Ted held over 25 positions at 19 locations and lived in 12 states during his 45 year career.
He is a current or past member of Michigan Tech's Founders Club, the American Productivity Management Association, the American Paper Institute, PIMA and has been active with the Boy Scouts of America.
From 1997 Induction to the Department of Mechanical Engineering-Engineering Mechanics Academy