Terry J Woychowski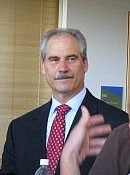 BS Mechanical Engineering 1978
Terry Woychowski has done so much for so many and is clearly worthy of being the first recipient of the newly established Humanitarian Award.
With his immediate family, Terry founded the Woychowski Charitable Foundation, sponsoring a Michigan Tech Senior Design Team to build a "Human-Powered Hammer Mill." He has formed a partnership with the World Hope organization to manufacture these grain processors and deploy them in sub-Saharan Africa to assist local villages in the preparation of their food staple. A second version was recently designed by yet another senior design team and Terry's daughter Jamie, is travelling to Africa to manufacture and distribute them.
Woychowski has been active in civic and volunteer work. He helped lead his churches involvement in establishing refugee camps in Albania during the Kosovo conflict in the Balkans.
Woychowski is General Motor's key executive liaison with Michigan Tech, working with the University in recruitment, financial grants, curricular development and special projects that are mutually beneficial to both organizations. In addition, Woychowski is a member of the Michigan Tech Industrial Advisory Board and has recently been named to the University's Board of Trustees by Governor Snyder to serve an eight year term.
As a member of the Board of Directors for the Engineering Society of Detroit (ESD), he started the formation of a partnership with General Motors, Michigan Tech and the ESD to offer a tuition-free retraining program for displaced engineers in the southeast Michigan. Terry has led the young engineer council at ESD, and also leads three separate leadership development small groups at GM.
Woychowski earned a Bachelor of Science degree in Mechanical Engineering, took postgraduate studies at Wayne State University, and attended the Global Executive Development Program at the Duke University School Of Business. In 2003 he received an Honorary Doctorate in Business Management from Indiana Wesleyan University.
After graduation from Tech, he started at General Motors as an engineer, and he became a development engineer for NVH at the Milford Proving Grounds. He held a variety of engineering positions including becoming the Global Vehicle Chief engineer of GM's full size trucks before becoming the vice president of GM's global vehicle program management, responsible for the flawless execution of every GM product line globally in 2009. Most recently, he was named as the vice president of global quality and launches in April 2011.
Woychowski is a four-time recipient of the GM Chairman's Honors. He also received GM's North America Achievement of Excellence award for the development of the all-wheel-drive viscous-coupled transfer case in GM's midsize truck-based vans. He has patent applications for the design of a parking brake adjustment mechanism and an electronic sphygmomanometer, a blood pressure measuring device that uses electronics instead of gauges. He also has a patent application for a dual material light weight brake rotor.
In 2007, Woychowski was inducted into Tech's Academy of Mechanical Engineering and Engineering Mechanics. The Academy honors distinguished alumni for excellence and leadership in engineering and civic affairs.
He has been active in civic and volunteer work and has served his community as an emergency medical technician and as a leading elder at his church. He and his wife, Rochelle Ann, have three children and reside in Commerce Township, Michigan.
In 2011, the first Michigan Tech Alumni Humanitarian Award was bestowed upon Woychowski in recognition of his outstanding involvement and dedication. His significant contribution of volunteer leadership and service to improve and enriched the lives of others and the welfare of humanity, reflects admirably on and brings honor to Michigan Tech.
From Induction to the Department of Mechanical Engineering-Engineering Mechanics Academy, Updated 2011