Sylvia A. Salahutdin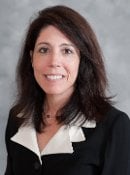 BS Mechanical Engineering 1991
Sylvia Salahutdin graduated from Michigan Tech in 1991 with a bachelor's degree in Mechanical Engineering and is first in her family to become an Engineer. She is currently the owner of seven LLC's companies operating under the DBA Little Caesars Pizza franchises.
Sylvia began her career at Michigan Tech in the co-op program working for Mead paper in Alabama. After graduation she started her career saving lives, working for AlliedSignal selling seatbelts, airbags and electronics to various OEM's. In 1993 she was recruited by a Japanese supplier, Takata, to help start their North American sales and program management group. After four years and several promotions while working for Takata she was recruited by Autoliv which is a fortune 500 safety restraint company.
During her career at Autoliv she became the global negotiator for the General Motors Worldwide Business Unit conducting negotiations in Asia, Europe, and North America. She became the youngest Director at age 30 & running the General Motors Business Unit and then the Ford Business Unit which included sales, engineering and program management. After seeing successes in managing these groups she was selected by the President to help reorganize the North America Purchasing group.
In 2005, Sylvia became the Director of Purchasing running groups in the United States and Mexico. After three years as Director of Purchasing she was asked to help organize, train and develop the purchasing group and strategies for Asia Pacific which included groups in countries of China, Japan, India, and Thailand in Shanghai, China.
After several years living and working in Shanghai, Sylvia and her husband decided to become Little Caesars franchisees as a side business. Sylvia flew from China to open the first store in August of 2010 followed by the two others. Due to the success of the first store opening, Sylvia ended up retiring from her automotive career and moving back to the US shortly after the first store opened. Her husband stayed in China for an additional year until he retired from his automotive career to help open the fourth store. All four stores were opened within a fourteen month period and have created jobs for 150 people. Three additional stores will open before year-end 2012.
During her college days at Michigan Tech, Sylvia was a member of Alpha Delta Alpha Sorority, Michigan Tech Student Foundation, as well as Society for Women Engineering where she was awarded the gas turbine scholarship.
With starting her own business after 19 years of working in the automotive industry and traveling worldwide, Sylvia is able to spend more time volunteering at her children's schools and has sponsored and hosted community events in the York, PA area. She is also an active alumni in her sorority as well as an active member with her husband on the Little Caesars franchise council.
Sylvia and her husband, Rashid ('91 Mechanical Engineering) live in York, Pennsylvania with their two children Alexis and Nikko.
In recognition of Sylvia's significant achievements, she was inducted into the Presidential Council of Alumnae (PCA) in 2012.
Excerpted from the 2012 PCA Induction Ceremony Program at Michigan Technological University.