Stephen L. Williams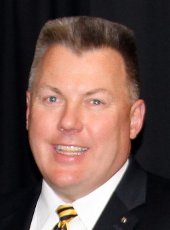 BS Mechanical Engineering 1986
Stephen Williams earned his BS degree in Mechanical Engineering in 1986 from Michigan Tech. Steve came to Michigan Tech from Cadillac, MI after he graduated from Cadillac High School in 1982. He went on to earn a MBA degree in Finance and Marketing in 1992 and a MS degree in Mechanical Engineering in 1996, both from Wayne State University.
After graduation from Michigan Tech, Steve began his career in his hometown of Cadillac, MI at Cadillac Rubber & Plastics as a Project Engineer. In 1988 he moved to TRW Vehicle Safety Systems as a Project Engineer working on the first production airbag systems in many of Ford Motor Company's vehicles.
Steve joined Chrysler in 1990 as a Project Engineer in Vehicle Impact and Analysis. In 1992 he was appointed Design Engineer responsible for all Jeep and Truck driver airbag systems, including the first production driver airbag system in a sport utility vehicle. From these two Chrysler assignments, he confirmed his true calling was in automotive engineering. He has experienced a progressive ascension in responsibility at Chrysler. In 1994, he was promoted to Product Engineering Supervisor for all Jeep and Truck passive restraints and steering controls. In 1998 he was appointed Product Engineering Manager for Durango & Dakota Interiors. In 2000, he was appointed Senior Manager of Product Investigations & Recall Administration, and acted on Chrysler's behalf to the National Highway Traffic Safety Administration (NHTSA) for matters involving vehicle safety investigations and recalls. In 2005 Williams was appointed Senior Manager of Ram Truck Vehicle Development & Synthesis. During this assignment he presided over introduction of stability control in the Ram 1500, launch of the 2007 ½ Cummins BlueTEC diesel and 6 speed heavy duty transmission as well as launch of the highly awarded 2009 Ram 1500 pickup. Upon launch of the 2009 Ram, Steve was promoted to Director of Engineering Quality. In this position he built a new organization from the ground up, with a focus on improving Chrysler's performance relative to vehicle functional objectives, durability, reliability and issue resolution. In late 2009 he was appointed Vice President of Innovation and Pre-program Concepts. As part of this role, he re-engineered Chrysler's advanced research funding and innovation processes. In 2010 Steve's role was expanded to include responsibility for Engineering Planning, Regulatory Affairs and Vehicle Architecture.
He has been recognized as a leader and mentor within Chrysler Engineering, He has sponsored over 15 Chrysler Institute of Engineering students as they progressed through their career and now is the executive in charge of the CIE program. He frequently speaks to groups within the company on career planning and development and is the recipient of 2 U.S. patents. In addition to his primary responsibilities at Chrysler, Williams also represents the company in multiple industry organizations. He also is a founding member and innovation board advisory director of AutoHarvest Foundation, a virtual automotive innovation marketplace. He has been an SAE member for 21 years.
Steve is FCA's key executive liaison for Michigan Tech and a longtime supporter of the University. He is also an active alumnus of the Lambda Chi Alpha fraternity at Michigan Tech, and has supported the fraternity in both leadership and financial capacities since his graduation. He is currently serving on the capital campaign steering committee for the Fraternity and as an officer mentor.
Steve resides in West Bloomfield Township, MI with his wife of 23 years Lisa (also a Michigan Tech graduate – BSME, 1988) and together they are members of the Founder's Society and President's Club. Steve and Lisa are the proud parents of twin daughters, Libby and Becca, who are juniors at Walled Lake Northern High School. In his spare time, Steve enjoys spending time restoring classic cars, assisting with his girls' sports teams and vacationing at his family's cottage in Eagle River, MI.
From the Michigan Tech Mechanical Engineering-Engineering Mechanics Annual Report, for 2015