Sandra Skinner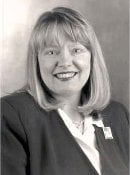 BS Mechanical Engineering 1978
Sandra received a Bachelor of Science degree in mechanical engineering from Michigan Tech in 1978. After graduating from the University, she accepted a position with Illinois Tool Works in Des Plaines, IL. Over the next several years, she held positions at various companies, joining United Technologies Automotive in 1983 as a manufacturing engineer. Sandra worked for United Technologies for the next sixteen years rising to the position of director, Continuous Improvement in 1999. During this time she also received a Master's degree in engineering from Wayne State University in 1989. In June of 1999, Lear Corporation purchased United Technologies Automotive, and Sandra stayed on as director of Quality and Continuous Improvement. She recently left Lear Corporation and accepted a position with Ford Motor Company as chief engineer, Electrical/Electronic Systems - North American Car.
As a student at Michigan Tech, Sandra was a member of the Pep Band and the Society of Women Engineers.
She currently serves as a member of Michigan Tech's ME-EM Industrial Advisory Board and the Society of Manufacturing Engineers. In addition, Sandra was a panelist at a US-Mexico Joint Workshop on Research and Educational Opportunities in Manufacturing. Presently, she is studying for her Master's in Business Administration at the University of Michigan.
She and her husband, Michael, make their home in Saint Clair Shores, Michigan.