Robert E. Monica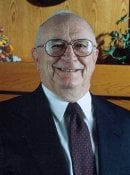 BS Mechanical Engineering 1950
Bob Monica attended Michigan Tech after serving in the United States Army during World War II, and in 1950 he graduated with a Bachelor of Science degree in Mechanical Engineering. He continued his education at Princeton University, earning a Master of Science degree in Plastics Engineering in 1952. That same year Bob began his successful career with The Dow Chemical Company as a Plastics Technical Service Engineer. He held several management positions as well as product director for the Corporate Product Department. In 1968 he was elected to the Board of Directors of Asahi Dow, Ltd., of Tokyo.
In 1981 he became President and CEO of Cordis Dow Corporation, a joint venture of Dow Chemical and Cordis Dow to manufacture hollow fiber dialysers and machinery for dialysis. In 1984 he was selected as the President and CEO of CD Medical, Inc., a subsidiary of Dow Chemical resulting from the purchase of Cordis Dow. He was promoted in 1988 to Vice President of Strategic Planning, Chemicals Performance Products of the Dow Chemical Company and retired in 1989.
Bob is a member of the American Society of Mechanical Engineers, Michigan Tech's Presidents Club and Second Century Society, and established the Robert E. and Dorothy G. Monica Scholarship at Michigan Tech.
From 1999 Induction to the Department of Mechanical Engineering-Engineering Mechanics Academy