Richard Henes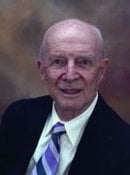 BS Mechanical Engineering 1948
Richard Henes fashioned considerable success from diligence and opportunity.
A native of Menominee, Henes earned a Bachelor of Science in Mechanical Engineering from Michigan Tech in 1948, followed by a law degree from the University of Michigan. In 1958, after working as an engineer and lawyer, he moved to Arizona and established what was to become the Henes Manufacturing Company, Henes Products and Henes Stamping. He also became a successful real estate investor in Phoenix.
He parlayed his Michigan Tech education and his business sense into a remarkable company, turning out products as varied as electronic instruments, semiconductor parts, aircraft components, exercise equipment, a gas generator, and a cover for pickup truck beds. "We had success," he recalls, but it was not limited to manufacturing. Investing in real estate in the Phoenix area, Henes prospered as the population expanded.
Along the way, that affluence translated into philanthropy, and Richard and Elizabeth Henes acted on their charitable instincts, with Michigan Tech the primary beneficiary. Over the course of ten years, the couple established the Henes Endowed Scholarship for students in mechanical, computer, electrical, and chemical engineering; and the Henes Chair in the Department of Mechanical Engineering-Engineering Mechanics.
Most recently, they have given $1 million to endow the Richard and Elizabeth Henes Professorship in Mathematical Sciences.
"With this latest generous gift, Dick and Liz Henes have challenged Michigan Tech to continue building a stellar mathematical sciences faculty and to tackle significant problems facing humankind through exceptional research and teaching," said President Glenn D. Mroz.

Henes credits Michigan Tech with stimulating his interest in mechanical engineering and his determination to excel at whatever he did. For many years, Henes has had an active interest in mathematics, and he regards it as the essential building block of all scientific and technological disciplines. He and his wife are committed to helping the University hire and keep top-notch faculty and prepare the next generation to compete in a demanding technological world.

Their philanthropy is based on appreciation for a solid Tech education; an especially helpful professor, R. Rex Seeber; hard work; and his vision of educating an "enlightened generation" that he hopes will maintain America's ascendancy globally.

"Liz and I have decided to invest our resources in what will help the world, and Michigan Tech is our choice," said Henes. "What we are doing through this gift is small compared to what Michigan Tech can do for the world."
Richard and Elizabeth Henes are members of Tech's Hubbell Society for their lifetime giving and the McNair Society for their estate gift commitments. Richard is a member of the ME-EM Academy, which recognizes excellence and leadership; and a member of Michigan Tech Fund's Campaign Committee.
In 2010, the Michigan Tech Alumni Association recognized his accomplishments with their highest honor, the Distinguished Alumni Award.
Henes has retired from all but real estate investing. He and his wife divide their time between Paradise Valley and Flagstaff, Ariz.