Richard Bayer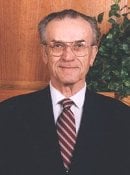 BS Mechanical Engineering 1944
Dick Bayer earned a B.S. in Mechanical Engineering with honor from Michigan Tech in 1944. Three years later, he joined the Michigan Tech faculty in the Department of Mechanical Engineering. During succeeding years he was promoted to associate professor and full professor. He retired in 1983, after 37 years of service.
In addition to his career at Michigan Tech, he also served as an officer in the U.S. Army combat engineering battalion in France and the Pacific during World War II. While at Tech he served as a faculty advisor to the Michigan Tech chapter of the Society of Automotive Engineers for more than 20 years, was instrumental in the creation of the SAE national competitions, and was honored by SAE as a life member in 1973.
He was also active as a member of a public transportation system research team at the Keweenaw Research Center, a member of the Faculty Senate, was in charge of the automotive lab in Hotchkiss Hall and designed the energetics laboratory in the 70's, and was the University Ombudsman. He was a member of the Michigan Tech Huskies Club, ASEE, Tau Beta Pi and the Elks.
From 1996 Induction to the Department of Mechanical Engineering-Engineering Mechanics Academy