Raymond M Trewhella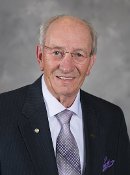 BS Mechanical Engineering 1956
Raymond M. Trewhella (BSME '56) began his career with Cliff Naturals (Cleveland Cliffs) in 1956 where he was responsible for mechanical and electrical maintenance for forty skilled associates and the startup of the first pelletizing iron ore plant in Michigan. He left in 1960 to assume the position of senior engineer with General Electric Company in Irmo, South Carolina. While at GE, he received the General Electric Company Managerial Award for Development of the Hermetically Scaled Tantalum Capacitor.
At the age of thirty-two, Ray accepted an offer to join Glassmaster Company in Lexington, South Carolina, as executive vice-president. A few years later, he became president, and then one year later, president and CEO of the company. He retired in 2007.
In 1973, he received the State of Oklahoma, US Senator Dewey F. Bartlette, OKIE Award. Ray was chairman of the Manufacture Council in Columbia, South Carolina, and Director of the Chamber of Commerce for the Greater Columbia area in South Carolina. The Alumni Association of the University of Oklahoma, College of Medicine honored him with the Amicus Medicine Award in 1980. He is listed in the National and Heritage Registry of Who's Who. He also served as Church School Superintendent of St. Michael and All Angels Episcopal Church.
While at Michigan Tech, Ray played basketball and was elected to the Michigan Technological University Sports Hall of Fame in 2003. Ray holds patents for innovative electrical component design.
Ray was married to Julianne (Julie) Anderson Trewhella for fifty-nine years. He lost her to cancer on February 11, 2013. They have three daughters: Debbie, Joanne, and Kathleen. He has five grandchildren and three great grandchildren.
From the Michigan Tech Mechanical Engineering-Engineering Mechanics Annual Report, for 2012-13