Raymond Kauppila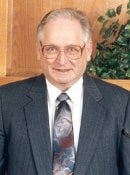 MS Mechanical Engineering 1960
Ray Kauppila earned bachelor degrees in both Mechanical Engineering and Mathematics from the University of Michigan in 1951. He then came to Tech as a teacher in 1957 and received a M.S. in Mechanical Engineering from Michigan Tech in 1960. He left Michigan Tech briefly to earn his Ph.D. from the University of Michigan in 1968.
Kauppila served Michigan Tech as a teacher and researcher from 1957 until his retirement in 1988. He came to Tech after working in industry for several years, bringing to the design curriculum an invaluable background, steeped in the realities of industrial design, yet firmly based on a foundation of mathematical and engineering science. His inquiring mind and his uncompromising quest for excellence left its mark on a generation of design students in the Mechanical Engineering Department. Few were unaffected by his intensity in the classroom and his insights in the design laboratory.
While at Michigan Tech he served a stint as chief engineer at the Keweenaw Research Center and maintained strong ties with the mining industry through his pioneering work in roof bolting. He was instrumental in the implementation of what is now called the Computer Aided Engineering Laboratory.
From 1996 Induction to the Department of Mechanical Engineering-Engineering Mechanics Academy