Paul D. Rogers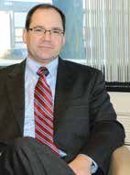 BS Mechanical Engineering 1988
PhD Mechanical Engineering 2004
Developing and transitioning game-changing ground system capabilities for the United States Army and Department of Defense remains the mission of the engineering and technology experts at the US Army Tank Automotive Research, Development and Engineering Center (TARDEC).
Paul Rogers ('04) leads a team of nearly 1,700 engineers, scientists, researchers, and support staff to ensure our soldiers and Marines are equipped with the most technologically advanced manned and unmanned ground systems in the world. As TARDEC Director, Rogers is accountable for the strategic direction of investments that impact more than 270 Army vehicle systems with an annual budget of $475 million.
In order to ensure the global impact of the Army—where ground systems can operate effectively in any location and in any environment around the world—Rogers promotes a culture of collaboration and innovation and leverages the talents of government, industry and academic partners. Rogers also remains a student in the field by seeking out new knowledge, ideas, and experiences, while promoting Science, Technology, Engineering, and Mathematics (STEM) to youth.
"STEM education is very important to the future success of our nation and crucially important to TARDEC." —Paul Rogers, United States Army
This profile appeared in the ME-EM 2013-14 Annual Report