Nancy J. Cragel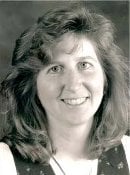 BS Mechanical Engineering 1986
Nancy graduated from Michigan Technological University in 1986 with a Bachelor of Science in Mechanical Engineering. She also attended the Ford College Graduate Program.
After this, she worked as a Product Design Engineer for over three years and was responsible for design and development of an all-new power tilt, power-telescoping column at Ford Motor Company. She was awarded US Patent No. 5,520,416 Power Tilt, Telescoping and Internally Collapsible Steering Column. Nancy went on to become a supervisor and later a manager at Global Test Operations. She started a new organization within the Ford Motor Company called Women's Marketing and Product Office, which among other things included research of the female automotive market and population trends to identify business opportunities. Presently, she is a Project Manager for the BX179 electric Vehicle Program. Nancy also served on the Advisory Board between Ford and Michigan Technological University.
In her free time, Nancy was the Scholarship and Awards Chairperson for the Society of Women Engineers in Detroit and organized the "Mothers of Young Children" groups for her home church. While Nancy attended Michigan Technological University, she served as a chairperson for the Society of Automotive Engineers, treasurer for the Ski Club, and received the Society of Automotive Engineers Recognition Award.