Melissa A. Marszalek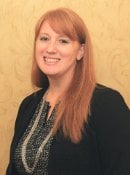 BS Mechanical Engineering 2001
MS Mechanical Engineering 2006
Along with the Certificate in International Business she received in 2000, Melissa earned two Bachelor of Science degrees, Mechanical Engineering and Business Administration, in 2001. In addition to her Michigan Tech education, she attended the Engineering College of Copenhagen in 2001 for her Mechanical Engineering senior design project and graduated from the International Business Linkage Program at Helsinki University of Technology in 1999.
Post-graduation, she accepted a position with Caterpillar Inc. in Mossville, Illinois as a Commercial Engines Service Representative. After spending a year and a half at Caterpillar she returned to Michigan Tech to pursue a Master of Science degree in Mechanical Engineering which she received in 2006. Her graduate research was published in the Journal of the American Ceramic Society.
Upon receiving her master's degree, she was hired by The Boeing Company to work in various areas supporting Structures, Interiors and Propulsion commodities of commercial airplane programs. Throughout her years with Boeing she has been invited to participate in several career advancement and leadership opportunities including the Engineering Leadership Program (2014), Leadership Exchange Event Leader (2012), and the Leadership Development Excellence Program (2010-2012).
Since 2011, Melissa has been in management, most recently within the Manufacturing Technology Integration and Program Support organization for the Boeing Research and Technology division.
Within her professional community she is a member of the American Ceramic Society and the Minerals, Metals, and Materials Society.
As a student at Michigan Tech she was a member of Delta Phi Epsilon sorority and was chosen as the Mechanical Engineering department's Woman of Promise award recipient in 2005. She was also very active in outdoor life serving as the Assistant Director of the annual Keweenaw Chain Drive Festival and as a SHINE Program Leader promoting youth mountain biking activities in the local Houghton community.
Melissa is involved with Michigan Tech as an alumna, currently serving on the ME-EM's External Advisory Board.
Within her community, Melissa is involved with the American Cancer Society's Seattle Hope Gala, Aviation Day sponsored by the Boy Scouts of America/Alaska Airlines, and the "Making Engineering Cool Again" (MECA) program in the Puget Sound area.
Melissa resides in Seattle, Washington.
In 2014, in recognition of her significant achievements, Melissa was inducted into the Presidential Council of Alumnae. This profile appeared in the induction program, September 19, 2014.