Maurice M. Taylor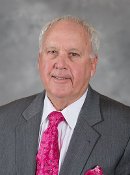 BS Mechanical Engineering 1968
Maurice "Morry" M. Taylor (BSME '68) was first employed by General Motors as a mechanical engineer in Saginaw. A few years later he joined Morweld Steel Products and, in 1972, became part owner of the American Steel Impact Corp. in Detroit. Then, in 1974, he started Maurice Taylor & Associates and was a representative for steel products manufacturers.
In 1983, Morry became President/CEO of CanAM Industries. CanAM moved its headquarters to Quincy, Illinois, in 1990 and changed its name to Titan Wheel International Inc. At that time, Morry led a leveraged buy-out in concert with Masco Industry. In 1992, Morry and MascoTech purchased the remaining interest in the company. Under Morry's entrepreneurial leadership, Titan has successfully acquired and recreated previously-failed businesses in the off-highway wheel and tire markets. Morry led the company through its initial public offering on the NASDAQ National Market System. After enjoying successful trading on NASDAQ, Titan moved to the New York Stock Exchange. Morry was nicknamed "The Grizz" by Wall Street analysts for his tough negotiating style. He has transformed Titan from a small wheel manufacturing business to a global producer of off-highway wheel and tire systems.
Morry ran as a Republican candidate for President of the United States in 1996, campaigning to bring sound fiscal management and business know-how to Washington. He wrote the book Kill All the Lawyers and Other Ways to Fix the Government about the campaign. Morry's philosophy: Hard work and a little luck are the greatest combination for success and can always make up for brains—but never forget to keep learning.
He has established the Brent Taylor Charitable Trust — serving educational institutions—named for Morry's brother who was killed in an auto accident in 1997. He also established the Maurice & Michelle Taylor Foundation which awards college scholarships to children of Titan employees, as well as the Maurice Taylor & Brent Taylor Loan-Scholarship Fund and the Titan Tire/Titan Wheel Engineering Annual Scholarship at Michigan Tech.
Morry married Michelle Callahan on August 16, 1975. They have three children, a son Anthony who attended Michigan Tech, and two daughters, Maureen Sredl and Katie Rivers.
From the Michigan Tech Mechanical Engineering-Engineering Mechanics Annual Report for 2012-13