Lee Ann Rouse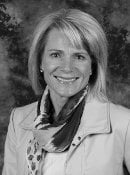 BS Mechanical Engineering 1987
Lee earned a bachelor's degree in Mechanical Engineering from Michigan Tech in 1987 and has since taken classes towards her MBA at Central Michigan University.
After graduating from Michigan Tech, Lee began her career working for Dow Chemical in Midland, Michigan as a Technical Service & Development Engineer in Dow Plastics. She later moved into Environmental, Health & Safety managing Dow's health promotion and health services functions. After ten years at Dow, Lee started her own consulting firm, On Track Training & Consulting which later merged with Cornerstone Consulting. In 2000, Lee began working with Omni Tech International, Ltd. - a technical and business consulting firm headquartered in Midland, where she is President and CEO.
In addition to managing the company, Lee works as a consultant in the quality and business arena, and has authored and facilitated many training courses. Lee has received several special recognition awards for her client and work efforts and several community leadership awards including the Athena Leadership Award, the Midland Chamber Director's Award, and the Vista award for Leadership. Under her direction, Omni Tech was named one of the 50 Best Companies to watch in Michigan and also received the Midland Innovator Award.
While a student at Michigan Tech, Lee was a member of the Memorial Union Board, Student Entertainment Board, the Society of Women in Engineering (SWE), and the Society of Manufacturing Engineers (SME). She has maintained her connection with Michigan Tech by returning to campus as a recruiter for coop and full-time employees and as a speaker and facilitator for different programs.
In her community, Lee has served on the Board of Education for the Midland Public Schools for eight years, the Midland Center for the Arts Board of Directors, and the Hidden Harvest Board of Directors. She has been on the Board of Directors for the Midland Chamber, Rotary, and the American Heart Association. She is an active volunteer with the Midland High Cross Country and track programs and is also involved with youth and adult programs at her church. In her spare time she skates on a competitive ice skating team and is an avid stamper and scrapbooker.
Lee resides in Midland with her husband Rob, and their two daughters Courtney, a college freshman, and Mackenna, sophomore in high school.
In 2011, in recognition of her significant achievements, Lee was inducted into the Presidential Council of Alumnae.
This profile appeared in the 2011 Presidential Council of Alumnae induction program.