John T. Eastman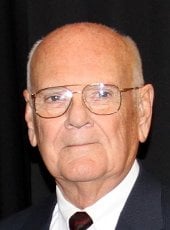 BS Mechanical Engineering 1958
John Eastman graduated from Michigan Tech in 1958 with a Bachelor of Science degree in Mechanical Engineering. He went on to earn an MBA from Ohio State University in 1980.
After graduation, John went to work for General Motors Corp in the Buick Automobile Engineering Section where he was assigned to the Experimental Noise and Vibration Engineering Section. While at Buick he introduced the new dynamic rubber testing machine and procedures that were newly introduced by the Inland Manufacturing Div. of General Motors. Involvement in that project led to his being assigned to handling all test car rubber parts. He participated in the introduction and implementation of a new automobile tire test machine known as the "Loaded Radial Runout Machine" This machine was used to determine the vertical and lateral force variation of the tire running with a vertical load against a large steel test wheel. This test machine was needed in the development of the new belted tires that were being developed to replace the bias angle tires. He was promoted to the position of Principle Design Engineer in the Chassis Design Section where he progressed to the level of Senior Design Engineer -Chassis Rubber Components.
In 1968, he determined that his progress in his professional career was limited at the Buick Motor Division. He was offered and accepted employment at the Monarch Rubber Co. in Hartville Ohio as a Senior Development Engineer. During the next six months, the Monarch Rubber Company was bought out by Teledyne , Inc. and became the Teledyne Monarch Rubber Div. The president of the Monarch Rubber Company, Robert Himmelright, was retained as the President of the new Teledyne division.
John was promoted to the position of Manufacturing Manager. At end of the first year he was promoted to Vice President of Manufacturing. He served as Vice President of Manufacturing for the next thirteen and a half years. At Teledyne he created an Industrial Engineering Department, was involved in the planning of four major plant expansions, increased the manufacturing capacity from $27 million in sales per year to $120 million in sales per year, introduced the Desma rotary station rubber injection machine and process, and tripled the production volume of motor mounts and suspension bushings. He remained at Teledyne for fifteen years. In 1983, when there was a change in management, he decided to take early retirement.
John believes his work experience acquired during summer jobs and his education received in mechanical engineering at Michigan Tech gave him the tools to pursue the business career that he enjoyed at Buick and the Monarch Rubber Company.
While at Michigan Tech, John married Barbara Bader on September 14, 1957. Barbara is a registered nurse. They had the first of their five children, John Jr., while he was finishing his degree at Michigan Tech. John is very proud that all five of his children have graduated from college. John Jr. is a metallurgy graduate of Case Western Reserve, Jeffrey is a mechanical engineering graduate of Ohio State University, Janet is a registered nurse, Jayme has a welding engineering degree from the Ohio State, and Jean has a degree in fine arts from Kent State University.
From the Michigan Tech Mechanical Engineering-Engineering Mechanics Annual Report, for 2015