John M. Beattie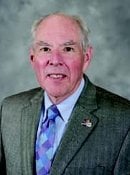 BS Mechanical Engineering 1963
John M. Beattie took his first job upon graduation with the Louis Allis Company in Milwaukee, Wisconsin, where he was a design engineer on a variety of commercial, military, and NASA space projects. His expertise was in ball bearing technology and V-belt technology. In 1968, he joined the Toro Company in Bloomington, Minnesota, as a project engineer for the Riding Greensmower 3 and Groundsmaster 322. A few years later he was promoted to Director of Manufacturing and Engineering of the Turf Products Division and was instrumental in the development of the Sandpro, Greensmaster 1000, and Hydroject machines. He became Vice President of Operations of the Raincat Irrigation Division for Toro in Evans, Colorado.
John left Toro in 1976 to head his own company, Hyland Pet Products in Greeley, Colorado. He also was doing contract manufacturing at the time. In 1986, he started his own firm, Concept Engineering Corporation, specializing in consulting and new product development. He also served as an expert witness in product liability litigation. A golf course mechanic approached Concept Engineering, asking the firm to build a service lift for mowers and turf equipment. John's market research demonstrated substantial potential in this area of turf management, and in 1991 he established Trion Lifts Inc. John is currently the President and Chief Executive Officer of Trion Lifts Inc. He was the designer and lead engineer in the development of the Trion workstation as well as Trion's DL 1300 Mobile Lift Table, the revolutionary Reel Conditioner, and an expanding line of maintenance tools for productive turf equipment service. Trion's current product line includes lifts and work stations. Trion products are distributed worldwide and are found on every continent but Africa.
John is either the inventor or the co-inventor on fifteen patents. He is active as an elder in the First Presbyterian Church in Greeley, Colorado, and is the leader of various bible studies. His hobbies include skiing, sailing, house remodeling, and designing on the backs of placemats and napkins.
On July 25, 1964, John married Marilyn Cramer. They have one son, Scott, who attended Michigan Tech's Summer Youth Program in 1986 but went on to earn his PhD in Statistics at Penn State.
This profile appeared in the ME-EM 2012-13 Annual Report